Valuing Music in Special Needs Settings
A toolkit and training resource commissioned by Music Education Hubs. Developed by soundLINCS and Nottingham Trent University following practitioner led research to explore music making and singing approaches for whole class teaching in SEND schools.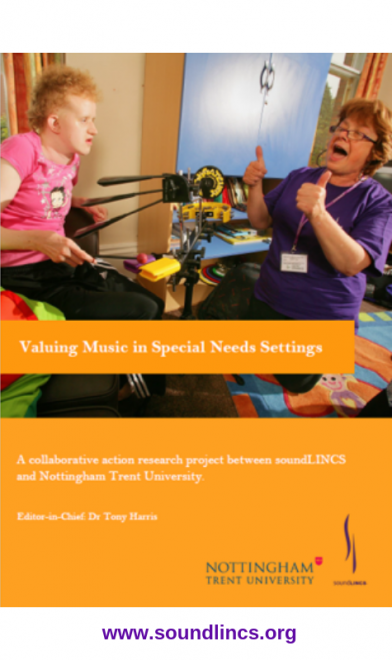 Practitioner led research to explore a range of music making and singing approaches for whole class teaching (WCT) and group work in Special Educational Needs and Disability (SEND) schools.
WCT is an approach to providing music and singing opportunities in schools. It is widely established following publication of the National Plan for Music Education in 2011 and formation of Music Education Hubs (MEH) in 2012.
Four MEH in the East Midlands identified that pupils attending SEND schools in their region are not offered the same inclusive opportunities to participate in WCT and group work as their peers in mainstream schools. They commissioned community music organisation soundLINCS to research a range of approaches for WCT and group work in SEND schools and produce a toolkit to support the musical training and development of music tutors and teachers in SEND schools. soundLINCS collaborated with Nottingham Trent University's School of Education to design and oversee the action research project and lead development of the toolkit.
Six soundLINCS community musicians led inclusion projects with participating groups from eight SEND schools. Schools were identified by their relevant MEH and each selected a class group to participate. The groups represented a wide range of SEND contexts. 83 pupils aged 5-19 participated in 96 music making sessions.
The core research questions included: What are the key problems that music practitioners face in implementing WCT and group work in SEND settings and how can these be overcome? What is the skill set required of the music practitioner to work effectively in a SEND setting?
Six sub questions were established that suited the particular skills and interests of individual musicians. For example: How can music and audio technology be employed for WCT and group work in SEND schools? How do we monitor musical progression in special needs learners?
The musicians provided activities that included listening, singing, songwriting, playing instruments and percussion, music technology, movement, composition, improvisation and performance. They maintained reflective journals to support individual professional practice, maintain research focus and weekly planning. The journals directly contributed to the research findings and the toolkit which also draws on monitoring visits, structured feedback from schools and post project discussions.
The research concludes that WCT and group work can be successfully provided in SEND schools and that musical progression was noted across a range of genres. Engaging the support of classroom teachers and assistants is essential and that music practitioners require a responsive pedagogy in addition to highly developed music and facilitating skills. The research noted that low expectations of what pupils with SEND can achieve through music can hold back their progress.
The toolkit offers a training and development framework to be flexibly used in a range of training environments.
Next Step
About the Provider

soundLINCS is a not-for-profit community music organisation delivering high-quality and innovative music making opportunities for all ages, abilities and needs since 1998. Our vision is that everyone has an opportunity to be empowered through music.