Top Ten Tips for Music Touring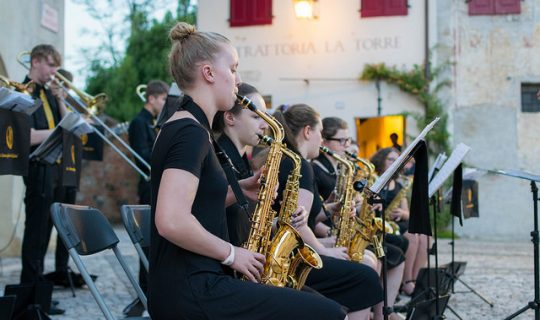 Are you thinking of going on a music tour but not sure where to start?
Corporate member Club Europe Concert Tours have been in the youth music tour industry since 1980. Here they've put together their top ten tips for a great music tour.
Performing a concert can really bring young musicians together as a group, improve musicianship and inspire your young musicians. Going on a music tour, triple all these benefits.
There's no doubt touring is exciting and inspiring, but planning one can also be a bit daunting. Where do you start?
Our Top Ten Tips:
1. Plan ahead – allow at least a year to plan your music tour. This will ensure you get the best possible accommodation and venues for your group.
2. Send your tour dates out to your group/parents as early as possible setting out the (incremental) payment options.
3. Publicise your tour on your website, communications with group, and display promotional 'sign up here' posters.
4. Choose your tour operator carefully (do they come recommended? Are they members of the School Travel Forum? What's their surcharge policy?)
4. Start preparing your tour repertoire early. Go for some new, challenging pieces. There's nothing like a tour to galvanise and motivate young musicians!
5. Choose the date of your tour to suit you (October half term and Easter are becoming as popular as June/July).
6. Choose your tour venues according to your group's experience and ability as well as your personal inclination (Tuscany in the Spring is lovely!)
7. Choose your accommodation carefully (Do you need rehearsal space? Do you need to be near the centre of town? How far is it from your concert venues?)
8. Send out reminders to your group about up-to-date passports/things to take.
9. Appoint somebody the official photographer/videographer. It's great to have a permanent memento of your tour in addition to the wonderful memories.
10. Enjoy your music tour!
**Special offer for all Music Mark members – Get £500 off your first music tour with Club Europe, quote MM20/21**
Next Step
Never toured before? If you'd like a copy of our Guide for First Time Music Tour Leaders, get in touch with us at travel@club-Europe.co.uk.
Find our more about all our school music tours at www.clubeurope.co.uk/school-music tours or better still give us a call on Freephone 0800 496 4996. We're always here to chat through any plans or ideas and offer advice and support.
About the Provider

A specialist youth music tour company, we have been creating wonderful music tours to Europe and beyond for all kinds of ensembles since 1980. Our tailor-made music tours combine unique performing opportunities with an exciting programme of excursions