Tido Music App
All of the songs from our graded singing books are available on Tido's app for iPad and web, providing singers with a digital, interactive and portable way to practise the songs they are working on for their Trinity singing exam.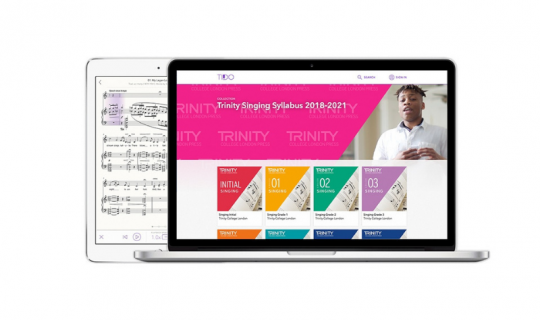 Tido Music is an all-in-one resource and learning tool for musicians of all abilities that provides interactive scores of piano and singing repertoire along with guidance, support and content from the music publishers and performers. Tido has an app for iPad and web browsers.
All the songs published in Trinity's 2018-2021 Singing books (Initial-Grade 8) are available within the Tido app.
By subscribing to the app singers can:
Sing along to the professionally recorded piano accompaniments
Follow the sheet music with automatic page turning
Annotate the sheet music within the app*
Speed up and slow down the tempo
Use a metronome to keep in time*
Access Trinity's pronunciation guides for each song
Read Trinity's teaching notes for each song
*Only available in the iPad version
Next Step
You can subscribe to a free 30-day trial of to explore this exciting range of repertoire, and discover all other sheet music and practice tools available on the Tido Music app.
About the Provider

Trinity College London is an international exam board that's provided assessments since 1877. We provide recognised and respected qualifications in communicative skills — from music, drama and arts activities to English language — at all levels.