The NYCGB Young Composer Scheme With Digital Partner: NMC Recordings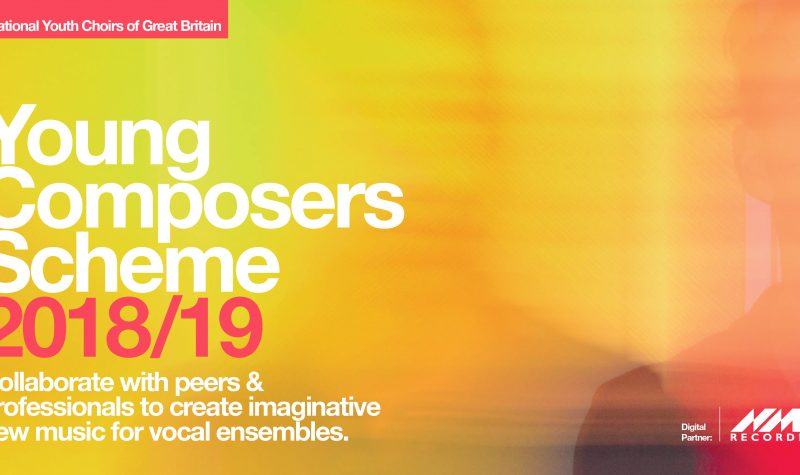 The scheme aims to draw applications from talented young composers and songwriters aged 18-25 working in the widest range of traditions, styles and media. There is no requirement to hold a Music GCSE or A-Level. Candidates must submit a portfolio demonstrating their skill at writing for ensemble voices, and their desire to create imaginative new music for ensemble voices as part of the scheme.
The four composers selected for the 2018-19 edition of the scheme following shortlisting and workshop interviews will receive a fully-funded programme of residencies, retreats, professional mentoring and guidance. Most residencies will be on National Youth Choir courses, giving the composers unrivalled opportunities to develop their music in partnership with their peers.
Mentoring will be led by NYCGB Artistic Director Ben Parry with support from Anna Meredith, whose major new work 'Five Telegrams' receives its premiere at the First Night of the BBC Proms 2018, performed by the National Youth Choir, the BBC Proms Youth Ensemble and the BBC Symphony Orchestra conducted by Sakari Oramo.
NYCGB and NMC Recordings will provide extensive technical input, career guidance and profile enhancement, and composers will also be awarded individual Innovation Funds to undertake their own initiatives.
Works completed on the 2018-19 programme will be performed in concert by the National Youth Choir in Summer 2019, and at a VIP showcase event in January 2020.
Composers will also get the opportunity to have their works recorded by the National Youth Choir for release on NMC Recordings.
Next Step
Applications for the NYCGB Young Composer Scheme are open now at www.nycgb.org.uk/young-composers and close on Monday 17 September 2018. Composers working in all genres and traditions are invited to apply. Shortlisted candidates will be invited to workshops and interviews in London on Saturday 22 September. Further information at www.nycgb.org.uk
About the Provider
The National Youth Choirs of Great Britain (NYCGB) is the family of choirs for outstanding young singers, and those with outstanding potential, in the United Kingdom.