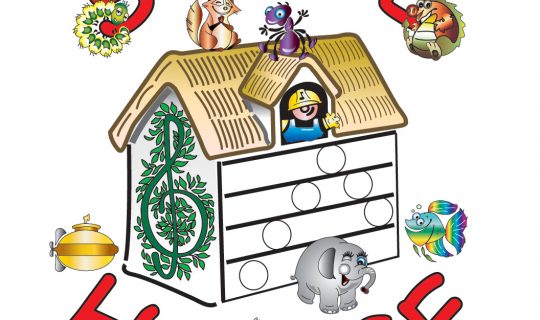 Stave House teaches Academic musical concepts through stories, rhymes and games, role play, music theatre and uses tactile equipment. Children using Stave House develop a high level of sight reading thus becoming independent musicians and can transfer from Treble to Bass to Alto clef with ease. They are encouraged to perform, to compose and to play. Stave House bridges the cultural divide offering the chance of a true music education to every child. It can be taught in the classroom, outside, one to one or in large groups and caters for babies on to year 6 and beyond. Some senior schools use elements of Stave house for GCSE.
Stave House is a musical resource that can be diverse and cross curricular and spans all year groups. It combines Oracy, literacy, Arts, and many other subjects with Music and brings music into the children's lives. It liberates Non music specialists to be able to deliver a high-quality music education, not just a music lessons and Stave house awards can be achieved to celebrate the children progress which are certificated by the London College of Music. Stave house has proved itself to be able to stretch gifted children as well as being an excellent SEN resource and has 35 years of research behind it. Children leave primary school able to read music and play music and compose music without having to pay for private lessons. Stave House schools are given free training every year for sustainability. Teachers can obtain CPD certification, Music teachers can achieve a Dip LCM in Early learning music teaching and become trainers and assessors. Stave House is taught in 21 Countries. Stave House is taught in many languages and can easily be taught where English is not the first language.
The four levels of Stave House are usually achieved in schools by year 6 and the children will be able to construct scales, key signatures, write music in several keys and sight read simple tunes and they do this with tactile magnetic materials which helps to access the learning far earlier and gives a deeper understanding of theoretical knowledge. Private music students will achieve level 4 earlier and can usually read in three clefs by the time they are approx 8 years old if they start Stave house at 4 years old. Stave House is great fun and celebrates the joy of music and the life of the child. Teachers can train in levels 1- 4, Stave house creates job opportunities for musicians and offers free placements for music graduates in the UK and abroad.
Stave House is accredited by the University of West London and the London College of Music.
Founder Ruth Travers is a fellow of the London College of Music and a fellow of the Royal Society of Arts, she was nominated for both following the impact of Stave House on Music education around the world.
About the Provider