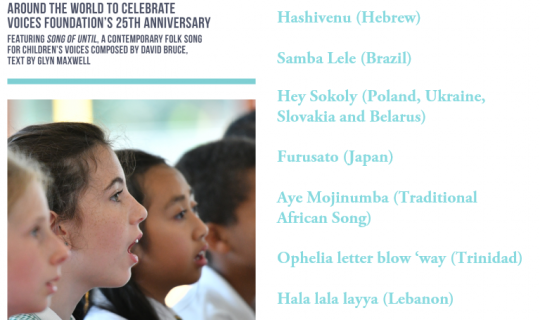 This brand new teaching resource has been designed specifically for class teachers and music educators to support singing-based musical learning from the Early Years to Key Stage 3. Thanks to a grant from Arts Council England, Songs of Home is being released FREE for all Schools and Music Education Hubs to use and perform.
Songs of Home is a celebration of singing from every continent that culminates with Song of Until, a folk song of our times by award-winning composer David Bruce.
Next Step
In addition to this free resource, we are offering a half-day workshop/training session with a renowned VF practitioner, to support the learning of the songs. This is at a special VF25 price of £250 (usual price is £300). Workshops are first come first served and dependent on the availability of our practitioners, so be quick!
About the Provider

The Voices Foundation is a national charity which uses the power of singing to improve the lives of children and young people in the UK. We help teachers and schools to ensure that music is an integral part of education from the early years