S!ng Series of Songbooks for assemblies, group singing, concerts and developing choirs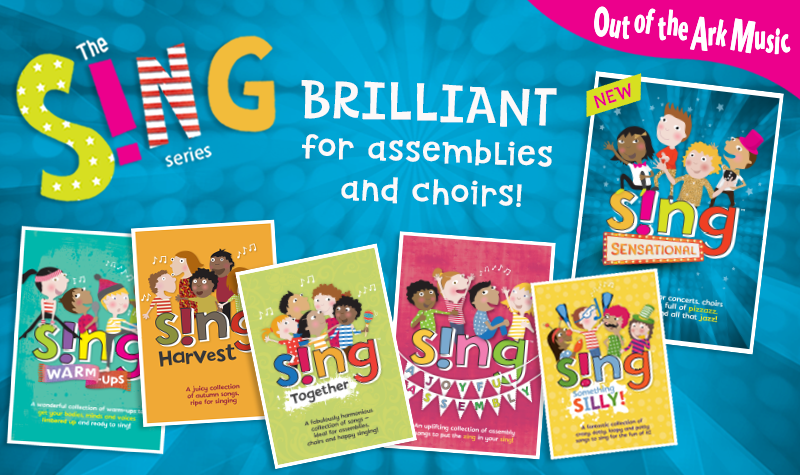 The fabulous new S!ng™ Series from Out of the Ark Music is designed to get your school singing about almost anything and everything! Each book contains ideas and tips on how to get going, a few vocal warm-ups to prepare voices and a whole mixture of irresistibly singable songs, featuring opportunities for rounds, harmonies and group- singing. Perfect for assemblies, group singing and developing choirs.

8 titles to choose from 
S!ng A Joyful Assembly
S!ng Christmas,
S!ng Easter
S!ng Harvest
S!ng Sensational
S!ng Something Silly
S!ng Together
S!ng Warm-ups
What's Included:
Teachers Book with:
A quick glance chart providing overviews and singing tips for each song and information on vocal ranges, keys, musical elements and subjects covered
3 Vocal warm-ups – to prepare voices with legato singing, breath technique and simple harmonies
Music score and song lyric sheets for 16 songs & 3 vocal warm-ups (Piano music score, melody and chords)
Sing™ Warm-ups (includes 30 warms ups)
Audio CD with:
Vocal tracks sung by children
Professional backing tracks
Words on Screen™ CD ROM for use in a computer with:
Words on Screen™ v2 versions of songs so that you can display song lyrics on any whiteboard, computer screen, television or interactive touchscreen. The lyrics synchronize with the music as it plays making them easy to teach and easy to learn
Extractable MP3s, printable lyrics and scores
Enhanced operation features including 'double-click' to hear and teach a single line
Words on Screen™ Online with:
An online copy of your product to stream or download on-the-go
Flexibility to create an expandable library of Words on Screen™ v2 song collections, nativities and musicals in your Out of the Ark online account
All the features of your Words on Screen™ v2 CD ROM
Next Step
Ages 5 – 11
Book & Audio CD: £24.95
Book, Audio CD & Words on Screen™ CD ROM: £39.95
About the Provider
Out of the Ark Music provide award-winning singing resources to over 18,000 primary school and early years settings across the U.K. We now offer outstanding CPD training aimed at every teacher in every school.