Be The Change – Sing Up song 2018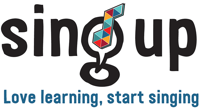 Every year since 2010, Sing Up have set aside a special day to celebrate the power of singing. This year's Sing Up Day theme is being the change that we want to see, and the difference that we can make when we start thinking about taking care of everyone locally and globally. The song Be the change, written by Emily Barden, is rousing and anthemic.
"We'd love to see more schools from around the world than ever before getting involved and collectively raising their voices. Singing together is empowering and creates a profoundly positive experience that we want everyone to benefit from. That is why we hope that Sing Up Day will unite schools around the world with one message: to Be the change." said Michelle James, Sing Up's CEO.
Be the change features flexible vocal parts to allow groups to perform it with an upbeat backing track or a cappella. With layers of harmony, it's the perfect song for singers of all ages and abilities to join in.
Schools can get started with the Vocal Leader Pack <http://singup.cmail19.com/t/d-l-ojrudjy-ahikudjtd-d/>  and fantastic teaching ideas <http://singup.cmail19.com/t/d-l-ojrudjy-ahikudjtd-h/> . We've included choreography, instrumental additions, quick-fire ideas and an assembly plan to start Sing Up Day in style. There's even more available online including video learning aids, a BSL video and a presentation for the assembly.
Share the resources with your network and help us to make this the biggest Sing Up day yet.
Performances of Be the change which are shared with Sing Up will be used to create a video, combining everyone's individual Sing Up Day events into the 'Sing Up Day Digichoir'. Each of these 'Digichoir' videos stand as testament to the fact that singing together is a joy shared across the world. Click here <http://singup.cmail19.com/t/d-l-ojrudjy-ahikudjtd-k/>  to watch the 2017 Sing Up Day 'Digichoir'.
Sing Up Day is an international event and we encourage singers from across the globe to let us know they are joining in by adding their singing event to our map. DSB International School, Mumbai are holding a special concert for parents as a celebration of singing with the whole school. Each class will perform their own song, with a whole school finale of Be the change. In Liverpool, Formby High School are hosting a collaborative 'Big Sing' with Formby primary schools and an evening community singing session.
About the Provider