Melodic Decoder
The Melodic Decoder series is a fun and innovative way to teach music theory for inquisitive young minds.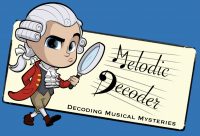 Three fun Christmas activity sheets to encourage children to practice their note-reading covering treble clef and bass clef.
Each video explains a basic concept of music theory in under 1 minute!
Festive worksheet with puzzles covering rhythm, time signatures and note values with accompanying audio.