Kay Charlton
Kay Charlton is a trumpet player, composer, educator and Arts Award Adviser.
Here's a video for beginners to sing or play along with on trumpet or clarinet using C D E F. If you don't have an instrument, get out some saucepans and wooden spoons and play along!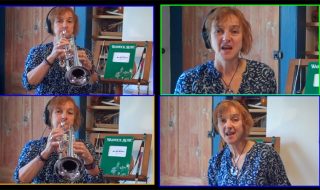 Thirteen tunes in a variety of styles, with lyrics, actions and space for improvisation and copy-backs. Starting with simple 1-2 note tunes, and moving on to 4-5 note tunes, this book will aid creative music making and progression.