Play Trinity Rock & Pop app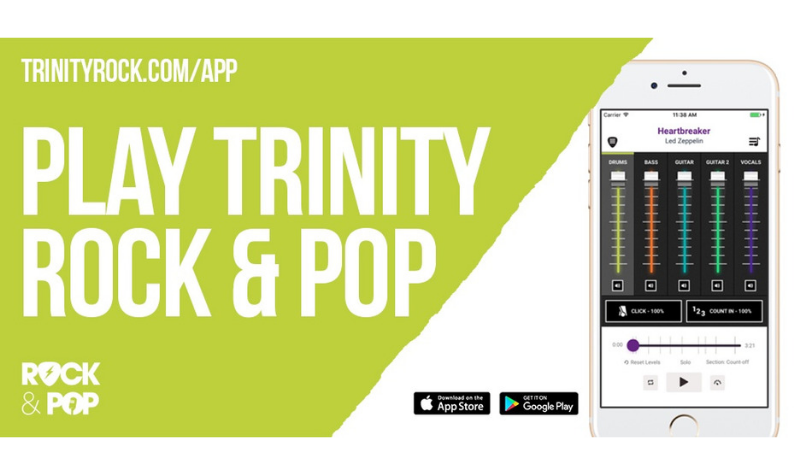 WINNER OF BETT AWARD 2019 – EDUCATIONAL APPS
Be the artist and the producer. Mix your own performances with our professional session musicians using the practice app that allows you to adjust pitch, tempo and each individual instrumental track from the mixing desk. Record your own performances into the mix of your chosen songs and play them back. Buy and download all the songs for your instrument and grade directly to your phone, and practise sections or the whole song in a way that suits you.
The app puts a range of controls at your fingertips, allowing you to:
CONTROL THE MIX: isolate or adjust the volume of individual instruments
LOOP A SECTION: choose a section of the song to loop on repeat to practise challenging parts
ADJUST THE SPEED: slow the track down to learn at your own pace
CHANGE THE PITCH: sing in a key that suits your range
COME IN WITH A COUNT-IN: make sure you start promptly and at the right speed every time
KEEP PERFECT TIME: use click track to make sure you don't miss a beat
FOLLOW THE LYRICS: have the song's lyrics scroll as you play
RECORD & REVIEW: record your own performance into the mix and play it back to review
Next Step
The app is free to download and comes pre-loaded with one sample song, 'Heartbreaker' by Led Zeppelin, so you can try out the mixing desk and explore the features for free.
About the Provider

Trinity College London is an international exam board that's provided assessments since 1877. We provide recognised and respected qualifications in communicative skills — from music, drama and arts activities to English language — at all levels.