Adventurous Music-Making – Ocarina Workshop
Music lessons from Ocarina Workshop bringing Instrumental and Vocal MUSIC to all areas of the Curriculum – for 5 to 14 year olds and their teachers.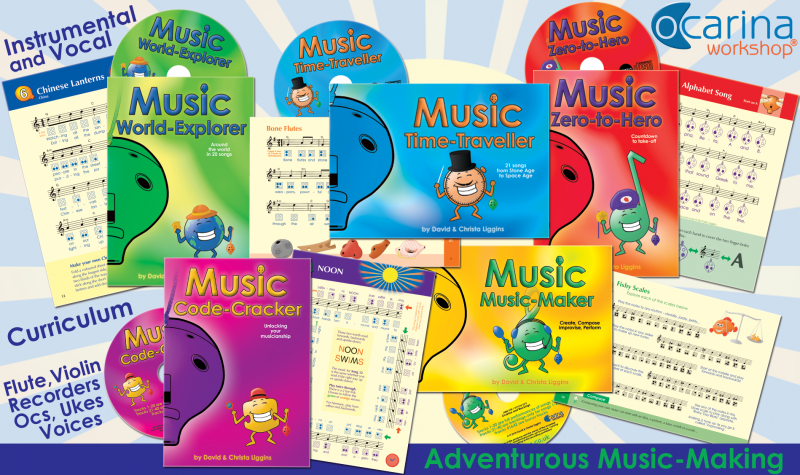 It's time for Adventurous Music-Making! Sing, play and explore 6 continents, 5 oceans and 42,050 years of history. Learn to create your own music, compose your own songs, and improvise. This ready-made series is created for all voices and any C instruments.
'Music Zero-to-Hero' takes the musical beginner from first notes to sophisticated performance pieces, in 20 cleverly sequenced songs: read notes and rhythms, follow ocarina charts or the notes on the stave, sing and play. The content of 'Music Zero-to-Hero' is designed for the 4-hole Oc® and the music can also be enjoyed by players of recorder, flute, violin, tuned percussion, keyboard, ukulele, etc.
'Music Code-Cracker' showcases music as a language that carries secret messages for communication. This book has all the tools to grab children's attention and equip them to listen, interpret, recognise and recreate musical codes, compose their personal signature tunes and enjoy guided composition and improvisation, along with cleverly supportive backings throughout.
'Music Music-Maker' is a practical can-do, lets-get-stuck-into-music-making book. The elements of music are introduced and expanded through first-hand interaction by singing and playing. New musicians and class-teachers are led into fluent music-making, including composing, improvising and performance. Play music forwards, backwards, upside down, around the page, from graphic notation … and guide your class to create their own.
'Music World-Explorer' is a journey around the world in 20 songs accompanied by balalaikas in Russia, panpipes in Bolivia, and tabla and sitar in India. And that's just three of the destinations! Listen and enjoy the backings; sing and play-along on ocarinas and other instruments, and experience world-wide cultures first-hand.
Music Time-Traveller' transports players back in time through jazz, ragtime, Victorian song, baroque & renaissance bands, medieval festivals and ancient civilisations through to cave-dwellers. All this is supported by the teacher's book and links with the history curriculum, including authentic ancient Greek, Egyptian and Mayan pieces.
Each Adventurous Music-Making title has 20+ songs with an all-age feel, and is suitable for singers and Instrumentalists, to transport you together to new worlds and eras…
✓ dyslexia-friendly pages   ✓ musical stave   ✓ ocarina notation   ✓ guitar / ukulele chords   ✓ lyrics to give content and meaning   ✓ colourful illustrations ✓ well researched content    ✓ authentic instrumental backings ✓ pupil book with playing tips   ✓ teacher book with piano accompaniments and teaching tips    ✓  bespoke performance and backing tracks (around 60 minutes) ✓  for children aged 5 to 14 and their teachers
About the Provider