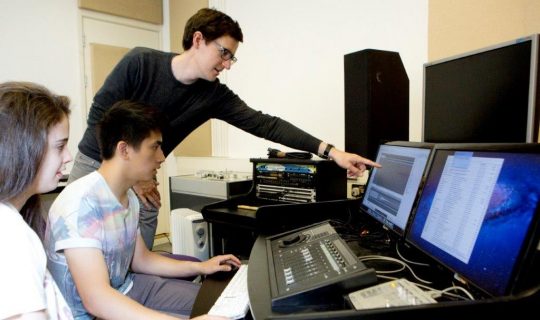 The Junior Trinity A-Level Music Technology course opens up a range of exciting and useful skills to students and is suitable for anyone who has a keen interest in creating and recording music, and who wishes to deepen their understanding of popular music styles and developments in music technology.
Junior Trinity Music Technology students have access to the same state-of-the-art facilities used by Trinity Laban degree students! The recording studio is designed to industry standards and features a large performance area and control room, digital mixing, Pro Tools and Logic Audio and true audiophile quality monitoring. The keyboard lab has networked Mac workstations with full size electronic pianos all of which are equipped with Logic Audio, Sibelius and Auralia software.
An A Level in Music Technology can lead to specialism in the subject at conservatoire or university, or it can broaden the experience of students hoping to specialise in performance or composition. It can also prepare students for careers in the music industry: for roles in live venues, radio, television, theatre, studio production, games design and acoustic engineering.
Next Step
Junior Trinity is a Saturday Music Department for 3-19 year olds, encouraging a lifelong interest in music and giving our students the opportunities to develop to their maximum potential.
About the Provider