Music Made – Listening to Instruments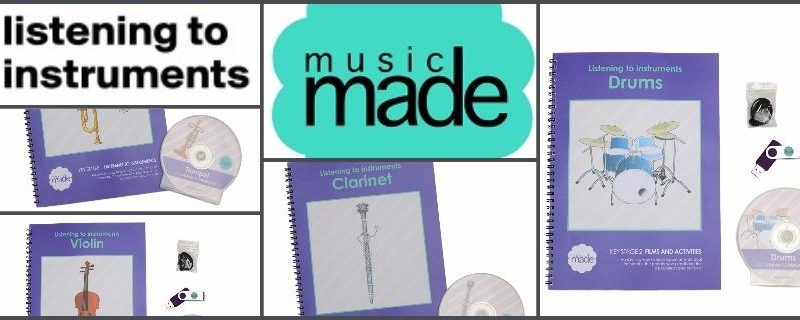 Music Made provides activities, resources, advice and training for primary school teachers to create a systematic, progressive and topic related music scheme. Requiring minimum preparation to deliver dynamic, professional and enjoyable music lessons meeting all curriculum standards, this is innovative and joined up school music teaching.
Listening to Instruments KS1 – These books are designed to meet and exceed the National Curriculum aims that all pupils should 'understand and explore how music is created, produced and communicated' The high quality recorded music is supported by teacher information sheets, visuals and engaging activities and provide a term's worth of learning about an individual instrument and the music it can make.
Listening to Instruments KS2 – A short, engaging and informative video is the starting point for these resources. An exciting way to learn about an instrument, the people who play it and the styles of music associated with it, these activities enable pupils to meet and exceed the National Curriculum objective that pupils should be taught to 'appreciate and understand music drawn from different traditions and from great composers and musicians'
Next Step
About the Provider
Marie is the founder of Music Made. She has over thirty years experience teaching the flute, piano and curriculum music in schools from Foundation to GCSE level. For the past decade she has concentrated on primary age children and delivering music input to GTP students. Marie has taught a lot of lessons, sung a lot of songs, tested a variety of music schemes and worked with teachers whose attitude towards teaching music ranges from extremely confident to completely terrified. As a result of this experience, Marie wanted to 'de-mystify' music teaching for primary school teachers and so Music Made was born.