Music for Education & Wellbeing – online communications courses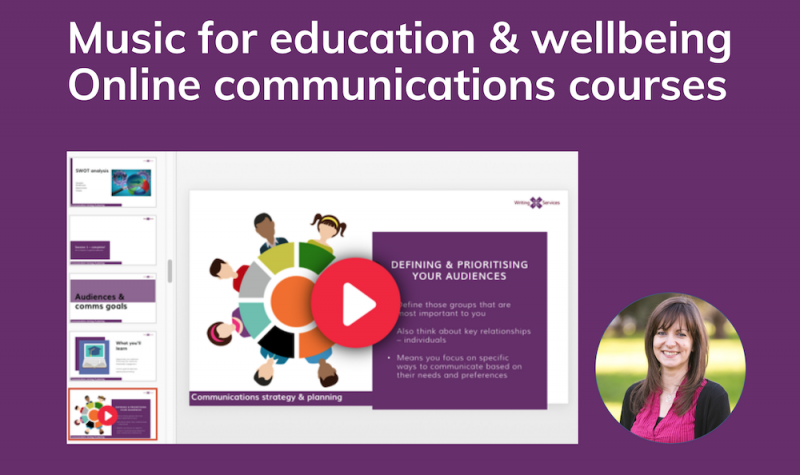 The first of a series of online courses to help you to reach more customers, participants, funders and commissioners by improving your own/your team's skills in comms/marketing, and creating/updating your comms strategy & plan.
Individuals or teams can work through the course at their own pace. The course contains six short 15-20 -minute videos, 15 downloads of templates and handouts, plus links to additional information and resources.
The course covers topics such as: segmenting your audience; setting goals; the power of your brand; how to create a key messages document; the importance of winning hearts as well as minds; identifying the most effective channels and activites; creating a one-year communications plan and monitoring it.
The course has been created by Anita Holford, a freelance communications practitioner, consultant and copywriter (trading as Writing Services). Anita has been working with teams and individuals in music and creative education, mainly in the UK, for more than 20 years. These have included music education hubs and music services, community music organisations, and national organisations like Youth Music and Sound Sense.
Next Step
This first course is available for £175, or for the launch price of £140 (20% discount) until Saturday 30 November (midnight) 2019 and access to the course is for one year.
"This is excellent & really is what many of us need, especially when running a small charity on limited resources."
About the Provider
I help music organisations to achieve greater reach and impact, and break down barriers to what they offer e.g.: support with communications strategy and planning; selling and advocating through websites and social media, stories and impact reports.