Music-based Mentoring – AYM's Talent to Talent Programme Resources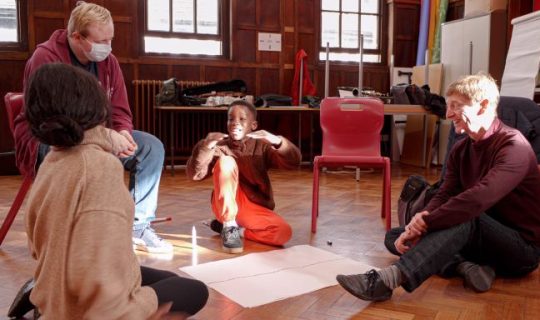 AYM's music-based mentoring programme, Talent to Talent, combines peer mentoring opportunities with creative music making for young musicians at different stages of their musical journeys. Funded by a project grant from Arts Council England, Talent to Talent was delivered in partnership with four Music Education Hubs and included the production of a series of films to share the value of this type of mentoring model as widely as possible.
Talent to Talent's aim was for participants to better understand their musical selves, their musical progression and career options; for them to develop new skills, explore experiences and aspirations and create new music with peers and inspirational professionals. For the older emerging professional musicians, the intention was that they would build on their existing professional experience and learn more about music leading. For the youngest participants, the project was a kind of intensive musical playground and no matter how little experience they had on their instrument, the activities were relevant and accessible. The slightly more mature and/or experienced participants were able to reflect on how Talent to Talent gave them a better understanding of the wider musical world and a further realisation that there are others out there as passionate about music as they were.
Music-based mentoring fosters not only skill development such as empathy, active listening, team working, confidence and improvising skills, but it also it enriches leadership in music education, giving emerging music leaders the skills to support young musicians to develop their own independent learning. The process is entirely non-hierarchical and non-genre specific.
Music leaders can learn through these five films what music-based mentoring is, why it's a valuable experience, how we trained our mentors and supported their development, what makes a good mentoring environment and the Talent to Talent process.
About the Provider
Musical talent is everywhere but opportunity isn't: family finances and other obstacles too often get in the way. We're here to change this.