ImagineNation: The Value of Cultural Learning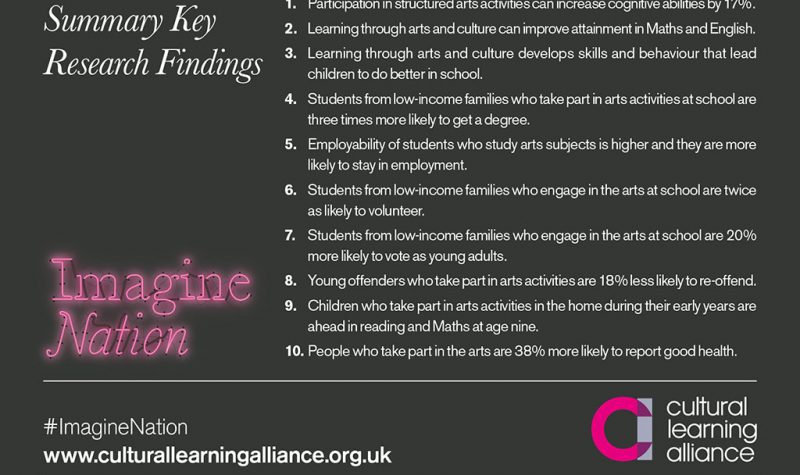 The knowledge, skill and experience made possible by the performing and visual arts, film, museums, libraries, heritage and exploring the built environment, are essential to young people's development. Through cultural learning, young people are encouraged to explore other cultures, past and present, and inspired to contribute to the arts and culture of the future.
Celebration and a call to arms
ImagineNation is a celebration of this important work, and a call to arms for everyone in education and the arts in the UK today. Every effort must be made to halt the erosion of the arts as an essential pillar in the structure of education, and to ensure that all children are the recipients of a broad and balanced education.
We need to support our schools and settings, many of which are struggling under the weight of complex bureaucracies and competing agendas.
Evidence
One of the ways to make the case for the arts is to deploy the arguments and evidence in this document. They show that the arts and culture are not an add-on, or a nice-to-have, but are part of the fabric of our society, and that young people have a right to experience the best, and to be given the opportunity to make their own contribution to the continual reshaping of our civilization.
Next Step
About the Provider
The Cultural Learning Alliance (CLA) is a collective voice working to ensure that all children and young people have meaningful access to culture. Arts and culture are a life-enhancing and essential part of our existence. They bring pleasure, participation, self-expression and essential skills into children's lives. By speaking with one voice and working together, we can realise our ambition for all children and young people to have an entitlement to quality cultural learning. The Alliance brings together the diverse parts of the cultural sector to work together – including museums, film, libraries, heritage, dance, literature, new media arts, theatre, visual arts and music – with the education and youth sector, with parents and with young people.