Huntington School Music Teaching Resources
A website created by Huntington School Music Department, York with a collection of teaching resources that we have written/created, and a blog and a podcast designed to share ideas and reach out to all the one-person Music departments. The aim of the website is to share our thinking, ideas, conversations, and resources. We want to learn from others and we want to support the growing number of one person departments.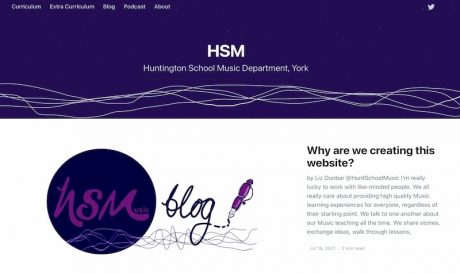 This is a website housing a collection of teaching resources that we have written/created at Huntington School Music Department, York. The site is aimed at our own students and parents at Huntington, and anyone else out there in Music Education who might find it useful. There are resources and revision materials for KS3 Music, GCSE Music, A level Music and A level Music Technology. In addition, there will be fortnightly podcasts and blogs that explore a wide range of Music Education topics and issues that concern us all.
Things are tough for Music departments in state school comps, and at Huntington we are lucky to be able to share ideas and develop our teaching practice together. The 'one person department' is a growing phenomenon, and last year we heard from a number of isolated music subject leaders who want to talk and develop their practice just like we do. So this summer we are drawing together all our KS3, 4, and 5 resources, sharing our thoughts on curriculum design and assessment via our fortnightly blog, and letting people into our conversations via our fortnightly podcasts – starting in September.
We've consulted on layout and content with our partners and various Music ed friends and arrived at the format you'll find on our website. Podcast 1 and Blog 1 explain why we're doing it.
Next Step
About the Provider