Grumpy Sheep Music for EYFS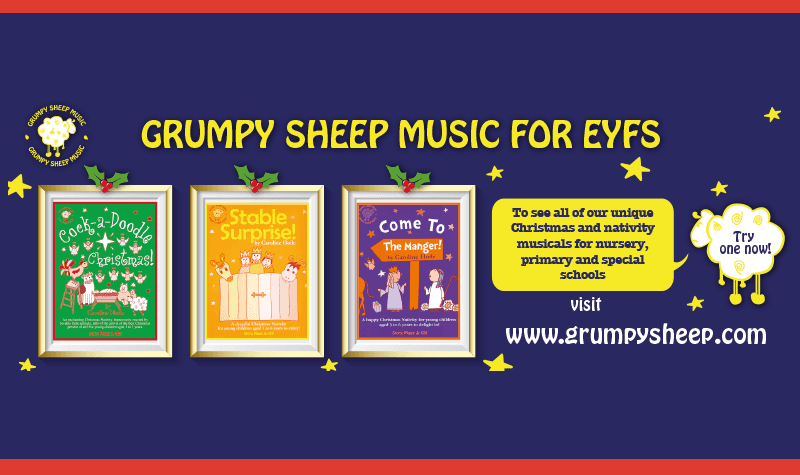 Our Songs for early years children are incredibly catchy and really easy to learn ~ and remember. They're written in all sorts of styles for younger voices with meaningful, well-crafted lyrics.
Young children learn so much when they're singing, and Grumpy Sheep Music songs make learning enjoyable!
Our Storylines within each pre-school musical or nativity play are simple, appealing and uniquely memorable. There's lots of repetition of words or phrases for little ones, so young children learn and remember the story with ease.
Our musicals and nativities are performed in schools and nurseries throughout the UK and across the world. They're charming and fun, adaptable to any numbers of children, and they're ever so easy to stage.
Each musical is published as a book and CD package, with professionally arranged backing tracks – you don't have to be a music specialist – or even play the piano!
And, as an added bonus, you can instantly download our musicals too.
Grumpy Sheep Music believes strongly in celebrating and embracing the performing arts. Within every early years musical there's space to include dancing, mime and movement, with lots of our songs inviting actions.
And many of our songs are so compelling that even audiences take to dancing too!
Next Step
About the Provider
Grumpy Sheep Music specialise in unique musical plays, nativities and songs for pre-school, primary and special needs children - and their teachers. Written by Caroline Hoile, one of the most well established children's songwriters in the UK, our musicals and songs are not only educational, but great fun too.