Global Sound Culture: Kenya
Global Sound Culture: Kenya is a comprehensive, interactive, and engaging digital learning pack designed to immerse your students in the rich, diverse sounds of Kenya. The pack supports delivery of the National Plan for Music Education with a focus on music technology. There are range of activities suitable across KS2-5.
This complete scheme of work gives teachers everything they need to deliver an authentic exploration of East Africa through music and culture from exploring traditional instruments to popular Afro Fusion in Nairobi and the UK.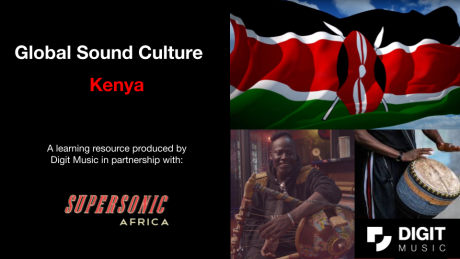 The pack contains:
Video introductions and interviews with Kenyan musicians
Playlists
Pre built DAW projects & App suggestions
Curriculum mapped music exercises
Royalty free samples
Careers, Geography and many other activity ideas including podcasts and songwriting.
Created in partnership with Supersonic Africa, Nairobi, students will get to meet the musicians, explore traditional instruments and even get to play them using apps! Topics could lead to compositions, performances or topic presentations to support curriculum aims.
For lower key stages there are listening, engaging and playing exercises with simple DAW projects and App explorations. This project is perfect to cross map with geography projects.
For higher key stages, dig into current music trends in Nairobi with playlists, use the pre-built DAW projects to compose, build beats and fuse contemporary styles.
This pack gives teachers everything they need to deliver an exciting programme of work which can be used again and again, with CPD included to support digital music confidence.
Compatible with a wide range of equipment and software.
Next Step
About the Provider

Digit Music is a record label, an electronic instrument manufacturer, and a creative learning and performance company. We use technology as a creative tool, supporting people of all abilities and disabilities to realise their musical potential.