Early Ears – First Steps into Music
Early Ears is a practical and fun resource, full of ideas for music making with children aged 0 – 5. Developed by soundLINCS for use within the home, it draws upon two decades of facilitating inclusive music in Early Years and many other contexts.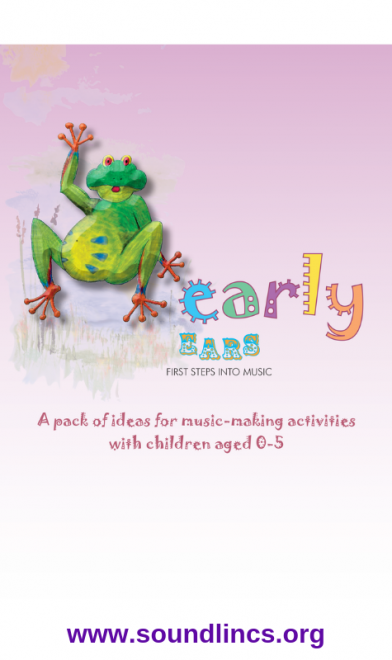 Early Ears is a practical and fun resource comprising 10 colourful double sided cards. They are full of ideas for music-making activities with children aged 0-5. Devised and designed by soundLINCS especially for use at home, it draws upon professional experiences gathered over two decades of music-making with young children.
The benefits of music-making have been studied, documented and applauded – for young children particularly, it helps with developing social, communication and co-ordination skills. It is known to be great fun, a value acknowledged formally in the National Plan for Music Education.
Early Ears describes eight fun activities, each with three developmental steps, and ideas for adapting each activity to keep it inclusive. There are suggestions about suitable equipment for each activity, all of which can be found within the home. And, in some cases, made by you! The activities are described very simply and without reference to specialist terms or musical notation. All of the songs use familiar tunes. The activities support Early Learning Goals especially in the Area of Learning an Development. Each activity card contains interesting musical facts and evidence of the benefits that music making can offer to youngsters.
Next Step
About the Provider

soundLINCS is a not-for-profit community music organisation delivering high-quality and innovative music making opportunities for all ages, abilities and needs since 1998. Our vision is that everyone has an opportunity to be empowered through music.