Curriculum Linked Singing Resources For Younger Voices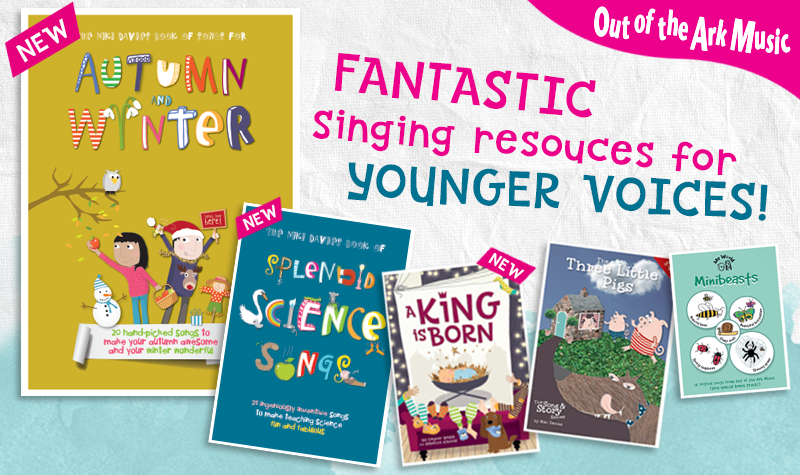 Out of the Ark Music provide the very best singing resources to primary schools and early years settings in the UK. Specialising in creating memorable, age appropriate, catchy songs which are fun and easy to sing, and that children just love! From topic linked songbooks to help enhance the curriculum, to nativities, musicals and topic related plays. Each title provides new and innovative ways to teach key topics and ideas through songs. Perfect for specialist and non music specialists!
The Niki Davies Collections for younger voices
Niki Davies is one of the country's most popular and able writers for this age group, penning songs that are fun-to-sing, varied and exciting whilst being incredibly catchy and easy-to-learn. They are also the perfect teaching tool for many of the core topics covered in the Early Years Foundation Stage. From seasonal, event lead or songs about daily routines to literacy and maths songs….helping to embed singing in the daily curriculum !
Titles Include:  
The Niki Davies Book Of Autumn & Winter Songs
The Niki Davies Book Of Everyday Songs
The Niki Davies Book Of Lovely Literacy Songs
The Niki Davies Book Of Marvellous Maths Songs
The Niki Davies Book Of Splendid Science Songs
The Niki Davies Book Of Spring & Summer Songs
The Niki Davies Calendar Of Songs
Age 3 – 7
Book & Audio CD  £23.95
Book, Audio CD & Words on Screen™ v2 CD ROM  £39.95
My World Series of topic based songbooks
This series of 13 songbooks has been written to help supplement the creative requirements of the EYFS as well as contributing to key areas of the curriculum. Each book contains 12 catchy songs in a variety of styles, tempos and rhythms, helpful teacher notes to expand and develop the subject content of the songs. As well as being perfect for adding simple percussion. Sing about Minibeasts, Animals, Space and Wonderful Water, to name a few! What better way to learn than through a song!
My World Titles Include:
All About Me                               On The Move
Animals                                         People Who Help Us
Colours & Patterns                     Space
It's Christmas                               Taking Care Of Myself
I Love Maths                                Toys & Games
I Love Music                                 Wonderful Water
Minibeasts
Age 3 – 9
Book & Audio CD  £19.95
Song & Story Series
More than just a songbook, this series of 12 traditional well-loved stories are retold through a very simple script, engaging narration on the Audio CD and a few memorable bite sized songs which include percussion opportunities too! Perfect for linking singing with literacy!
Titles include:  
Chicken Licken                                                 The Enormous Turnip
Goldilocks & The Three Bears                       The Gingerbread Man
Hansel & Gretel                                               Th Musicians Of Bremen
Jack & The Beanstalk                                      The Princess And The Pea
Little Red Riding Hood                                    The Three Billy Goats Gruffy
Rapunzel                                                            The three Little Pigs
Age 3 – 6
Book & Audio CD  £13.95
Nativities
With one of the widest selections of nativity musicals available for early years and the foundation stage. Many of our titles have become classics, with nurseries and reception classes choosing to perform A King Is Born, Whoops-a-Daisy Angel, The Nativity and It's A Baby year after year. All of our exciting range of more than 30 nativities have been written to ensure that the practitioner is able to deliver a memorable, fun easy-to-stage production with age-appropriate songs.
All our titles come with a Book with music score and lyrics with either teaching notes/script and Audio CD with vocal and backing tracks.
Many also come with Words on Screen™ v2 versions of songs so that you can display song lyrics on any whiteboard, computer screen, television or interactive touchscreen. The lyrics synchronize with the music as it plays making them easy to teach and  learn.
Nativities available  for ages 3 – 11. Prices start from £19.95 for a Book and Audio CD package
Resources
The Niki Davies Collections for Younger Voices
www.outoftheark.co.uk/series/niki-davies-collections/
My World Series – topic based songbooks
www.outoftheark.co.uk/series/my-world-series/
Song & Story Series – music, songs and literacy
www.outoftheark.co.uk/series/song-and-story/
Nativities
www.outoftheark.co.uk/products/nativities/pre-school-nativities/
Next Step
About the Provider
Out of the Ark Music provide award-winning singing resources to over 18,000 primary school and early years settings across the U.K. We now offer outstanding CPD training aimed at every teacher in every school.