Can Compose: National Music Educators' Survey
This new report from Sound and Music finds a crisis of creativity in music education, risking the future of composing in the UK. The report outlines urgent issues facing teachers and students today, and 21 key recommendations to help combat them.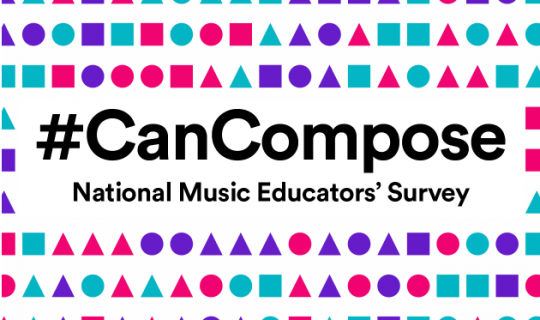 Ground-breaking research from Sound and Music, the UK's national organisation for new music, has shed light on the significant barriers faced by young people attempting to develop their skills in creating and composing their own music, as well as the limited support offered to music educators and the lack of value placed on this area by policy makers.
Over 550 educators from across the UK completed a survey from which these findings are drawn. Respondents were nearly unanimous in agreeing that creating and composing music should be a central element of music education and that it has a positive impact on young people's identity and wellbeing. However, the overwhelming majority also agreed that there were insufficient opportunities for young people to create and compose their own music, and that they face a number of significant barriers.
Susanna Eastburn MBE, Chief Executive, Sound and Music said:
"This matters because now, more than ever, the creative, problem-solving and collaborative capabilities that composing uniquely requires and develops are vital for the future – both in terms of ensuring that we have a new generation of talented composers contributing to the future of our culture, but also because these skills are precisely those which our young people will need in order to thrive in and navigate an increasingly complex, changing and automated world".
Deeper analysis of the findings also reveals that there are serious structural deficiencies in how young people are taught to create their own music, which point clearly and compellingly to the need for changes in perceptions, provision, policy and practice.
The report also offers 21 key recommendations for the sector to begin to address these urgent issues.
Other key findings from the report include:
97% of respondents agreed that "there should be more opportunities for students to compose their own music"
Respondents reported a fall of 42% in young people's confidence in their ability to compose between Key Stage 2 (ages 7-11) and Key Stage 3 (ages 11-14)
Very few young people are able to progress any talent or interest they have, since only 27% of school teachers know of external opportunities for their students
About the Provider

Sound and Music is the national charity for new music. Our work covers composer and artist development, partnerships with a range of organisations, audience development, touring, information and advice, network building, and our education programme.