Young Voices to join forces with Billy Ocean to smash it's own Guinness World Record for the World's Largest Simultaneous Sing LIVE from the O2 Arena in support of children's mental health
7th December 2020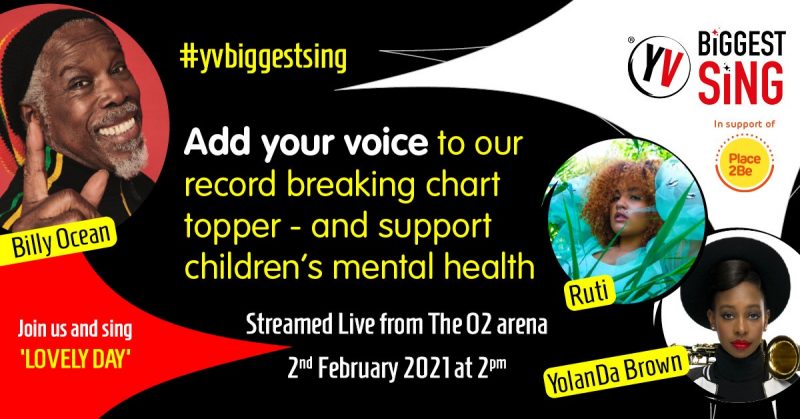 Young Voices has joined forces with Sony, Guinness World Records and The O2 to create a unique event in support of Place2Be, the UK charity that supports teachers and schools to improve children's mental health.
On 2nd February 2021 at 2pm children in schools and homes across the UK will sing along with music legend Billy Ocean to raise vital funds for children's mental health charity Place2Be whilst also attempting to break two Guinness World Records! Participants will be invited to sing or sign to break both the Largest Simultaneous Sing and the Largest Simultaneous Signed Song records!
Billy Ocean, YolanDa Brown and Ruti will perform live with the Young Voices Band at The O2 arena and at the same time thousands of children and their teachers across the country will join in singing and signing Lovely Day. This new version of the classic Bill Withers song will also be released as a charity single in partnership with Sony's children's music label, Magic Star.
Young Voices already holds the Largest Simultaneous Sing record which is currently 293,978 people. The previous "Big Sing 2005" record was broadcast live from the Royal Albert Hall, with everyone singing Lean on Me live with artists Joss Stone, Lemar, Ms Dynamite and raised funds for CLIC Sargent and the African Children's Choir.
Ben Lewis Young Voices CEO said: 'Place2Be is an incredible charity and we can't think of a more exciting way to raise vital funds for their work than break a world record with Billy Ocean and thousands of schools and children singing such an uplifting and powerful song as Lovely Day'
Participating groups can register their involvement in the world record attempt at youngvoices.co.uk/biggest-sing to access learning resources for the song as well all the information they need to raise funds for Place2Be.
Catherine Roche, Chief Executive of Place2Be said:"It's been an incredibly challenging time for many young people, their families and schools. Loneliness and isolation has been one of the most common concerns amongst those we support, and I can't think of a more positive and special way to bring our communities together than through the uplifting power of music. The Biggest Sing will be a true highlight of Children's Mental Health Week 2021 and we look forward to hearing schools and homes across the country join together virtually in song.
Want to be a Record Breaker? Sign up for free today! 
Due to the changing situation around the coronavirus pandemic, please keep safe and make sure you're up to date with the latest government guidance on group singing from DfE.
---
Young Voices
For the past 25 years, Young Voices have staged the largest children's choir concerts in the world, a yearly program culminating in full-scale arena concerts with first class production values where the children are the stars. Young Voices is an all-inclusive educational program designed to use music to develop 21st-century skills such as communication, collaboration, creativity, mindfulness, and innovation.
We provide extensive support materials and resources for teachers and a multifaceted experience for children that encourages a life-long love of music.  More than 2 million children have taken part in Young Voices since 1996 and the UK tour in 2020 alone involved over 170,000 children.
Place2Be
Place2Be is a children's mental health charity providing school-based support and in-depth training programmes to improve the emotional wellbeing of pupils, families, teachers and school staff. Working in partnership with schools, teams of mental health professionals help to create a culture of openness and promote positive mental health, ensuring that potential problems can be identified at an early stage and that children can access support in a safe and familiar environment.
Magic Star/Sony
Magic Star is the home of children's and family entertainment at Sony Music UK. Launched in October 2019, the label is dedicated to children's audio and audiovisual content – from pop music and spoken word to live events for the whole family to share. We believe that music is the soundtrack to family life, bringing generations together in an enjoyable shared experience. There's no such thing as too much audio for kids!

Guinness World Records™
Guinness World Records is the official adjudicator for the YV Biggest Sing record attempt. Originally the Guinness Book of Records they are the ultimate authority on record-breaking achievements and started out as an idea for a book of facts to solve arguments in pubs in the 1950s. Over 60 years on, and the trusted Guinness World Records brand is a beloved household name. The book continues to be a best-seller each year, enjoyed through the generations.
The O2/AEG
The O2 is the world's most popular music and entertainment venue, visited by over 70 million people since opening in June 2007 and is owned by AEG. Headquartered in Los Angeles, California, AEG is the world's leading sports and live entertainment company. With offices on five continents, AEG operates in the following business segments: AEG Facilities, which is affiliated with or owns, manages or consults with more than 120 preeminent arenas, stadiums, theaters, clubs and convention centers around the world including The O2 arena, the Sprint Center and the Mercedes-Benz Arenas; AEG Presents, which is dedicated to all aspects of live contemporary music performances, including producing and promoting global and regional concert tours, music and special events and world-renowned festivals.