Young Singers Invited To Audition For National Youth Choir
11th April 2022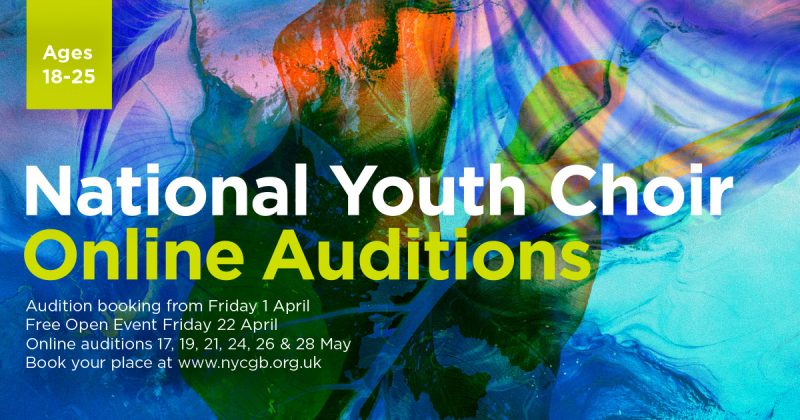 The National Youth Choirs of Great Britain (NYCGB) is inviting anyone aged 18-25 with a love of singing to audition for the flagship National Youth Choir. As well as individual online auditions taking place in May, there will be a free Open Event, open to anyone, held online on 22 April.
National Youth Choir members come together to take part in a unique year-round training and performance programme. They work with and are inspired by world-class musicians and coaches and are part of major national and international events, concerts and festivals, performing at high profile venues including the Royal Albert Hall and Twickenham Rugby Stadium. They gain extensive experience of developing and premiering new choral music in live performance and via digital media, sing alongside the most gifted young singers in the UK, develop their skills to the highest level, and make life-long friends. Members grow in confidence, fulfil their singing potential and gain real-world life and professional skills such as team-working, communication, leadership and creativity.
NYCGB passionately believes that choral singing is for everyone and encourages and supports young people who are currently underrepresented in choral music.
Audition booking is now open, subject to availability. More information on how to book an online audition place can be found at www.nycgb.org.uk. Recognising that these are challenging times, financial assistance is available towards auditions and membership via a simple online application.
Auditions will take place online on 17th, 19th, 21st, 24th, 26th and 28th May.
In addition to individual auditions, a friendly and interactive free online Open Event will place on Friday 22 April, 4:00pm – 5.15pm. This is open to anyone interested in auditioning and finding out more about becoming a member of the National Youth Choir. Places are free and can be booked online at www.nycgb.org.uk. Participants will meet Artistic Director Ben Parry, take a look behind the scenes and find out what National Youth Choir members say about their experiences. They will also have the chance to sing with some current members and event attendees.
Please note: The National Youth Choir is for singers aged 18-25. Separate auditions for NYCGB's other choirs – the National Youth Boys' Choir, the National Youth Girls' Choir and the National Youth Training Choir – will take place in autumn 2022. Please check website and sign up to the NYCGB mailing list for updates.