World Premiere Performance for Young Singers
3rd July 2017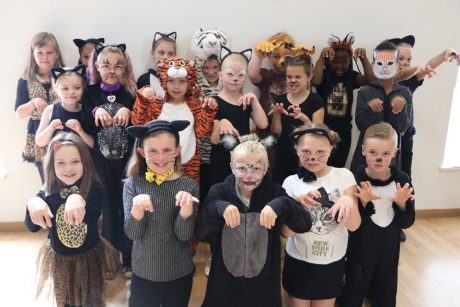 The New Theatre Royal in Portsmouth came to life with a stage full of excited young singers telling the story of Bombay the cat's adventures in Portsmouth in a brand new musical for the city.
On Friday 30 June, in front of proud parents, the public and the Lord Mayor of Portsmouth, over 200 children aged between 6 and 8 sang their hearts out in a world premiere performance.
In keeping with the show's story, all the children came dressed as cats – from house cats to tigers and even a pink panther and the Cheshire cat, the singers performed in a feline frenzy of songs and music.
Bombay's Big Adventure, a show produced by Portsmouth Music Hub, showcased a range of songs written by the Music Hub's composers, which included 'Spinnaker Salsa, 'Cool Cat' and a firm favourite with the audience 'Bombay Rock'. The songs were linked to iconic venues around the city including the Guildhall, Kings Theatre and the Wedgewood Rooms.
The highlight of the show for the young performers was a surprise appearance on stage by the star of the show, Bombay the cat who took his starring role in his stride, purring and sporting a very classy bow tie!
Charlie Oatley, aged 8, from Milton Park Primary School said:
"I loved singing songs about the city where I live and I really loved meeting Bombay. I'm still buzzing with excitement!"
Sue Beckett, CEO of Portsmouth Music Hub, said:
"Bombay's Big Adventure was an uplifting celebration of the sights and sounds of Portsmouth especially written for young singers, musicians, dancers and a marching band. Concerts like this are full of talent and enthusiasm and they are absolutely unforgettable, not only for the audience, but for all the young performers who took to the stage."
Schools attending were: Castle Primary School, College Park Infant School, Medina Primary School, Milton Park Primary School, Moorings Way Infant School, Purbrook Infant School and St. John's RC Cathedral Primary School.
All photographic images have signed permission for web and social media, publications and presentations.
For further information please call Portsmouth Music Hub on 023 9237 5655.