Why just 'doing' music isn't enough; What did we learn from Mark Phillips' webinar?
1st February 2021
On 14th January, we were delighted to be joined by Mark Phillips HMI, Ofsted's National Lead for Music, for our first Member Webinar of the new year. Over 400 Music Mark members attended live on the day to hear Mark speak and have the chance to ask him their questions in the Q&A section of the webinar. In his presentation exploring 'why just 'doing' music isn't enough' Mark discussed inspection frameworks, the curriculum, deep dives, and much more.
We caught up with some of our members who attended the webinar live to hear their thoughts on the session and what they learned from it.  For those who were unable to join us live on the day, a recording of the webinar is available for Music Mark members to watch here.
Maureen Hanke, Individual Member and Former Music Mark Trustee
"It was joyous to hear and see the return of Mark Phillips HMI. His story was engaging, and his message was so clear: we need planned, sequenced music education at every age and stage of learning. Such a curriculum enables pupils to incrementally build their musical skills of playing a musical instrument, composing, and increasing their musical knowledge. A progressive and sequenced curriculum incrementally builds on what has already been taught, with clear steppingstones; it is ambitious and enable pupils to become, over time, increasingly musically sophisticated, nuanced and technically adept. Music lessons without such sequential progression are not enough.
Mark reminded us that Ofsted Inspections will not judge a curriculum on its plan but will use the plan to ask questions that lead to their evaluation, a plan will provoke questions that explore the quality and sequential nature of the curriculum. As we move out of the current lockdown, Ofsted want schools and their music journeys to be considered individually and to hear each story, each set of challenges, each set of solutions.
I completely trust and respect Mark because he completely 'gets' music education! I believe many in music education feel the same way. He maintains no fear or favour. In return, we must listen, be refreshed and respond to his message."
What did the session cover?

Duncan Mackrill, Honorary Senior Lecturer at Sussex University and Individual Member of Music Mark
"Mark started with a 'thank you' to everyone for stepping up at this time before helpfully outlining the expectations from Ofsted and what they were looking for in their inspections. One of his main points was that it is not enough to just have music on the curriculum timetable, or to have a series of projects and activities. Instead, he emphasised that it is about constructing and facilitating a music curriculum that incrementally builds on pupils' past work and experience over time. He gave a considerable amount of time to this, giving examples and highlighting the importance of clearly demonstrating how skills and knowledge are revisited across years.
Mark also talked about the move to remote learning and that the remote curriculum should be aligned to the regular curriculum as much as possible. So, schools should deliver their 'normal' curriculum in a different way, with things sequenced to move on to the next step and curriculum goals being made explicit in remote learning. He made the important point that pupils' music education should not be allowed to stop. This is commendable and a worthy aim, but I feel this is somewhat unrealistic for inspection, where music lessons and making music has been so heavily curtailed, access to technology is so variable and things are very different both nationally and between schools. Therefore, I am concerned that inspections may penalise music teachers and schools, for things that are outside their control.
Mark emphasised that Ofsted expect schools to follow a broad curriculum and that they were looking at any signs of narrowing in the Key Stage 2 and Key Stage 3 curriculum. Where they find this, they will look to see that pupils still have access to a broad curriculum commensurate with the National Curriculum. Whilst this is helpful, it appears that the sanction for this is for it to be noted in the report, rather than there being a direct implication for the overall grade, which would, in my opinion, give a much stronger steer to schools, with significant consequences for those who do not.
Following his presentation, Mark took questions from participants (of which there were around 400!). I asked Mark, about the statement in Ofsted's guidance on 'What's working well in remote education' published earlier this month, that 'The aim of education is to deliver a high-quality curriculum so that pupils know more and remember more.' This seems a rather simplistic and impoverished view, especially considering what Mark had presented and I asked if we can expect a more nuanced definition, particularly with respect to Music and the Arts. This would be particularly valuable for school leadership teams, as well as music teachers. Mark helpfully suggested that maybe there should be more engagement with the sector over this and agreed to look at the possibility of providing additional guidance."



What did you take away from the session?

Lucy Reid and Louisa Hammond at Inspire Music Nottinghamshire
"The webinar was an insightful and informative presentation. It was refreshing not to be talking about recovery plans and Covid measures, but good to get back to the difference's music makes in young people's lives, keeping our vision and passion and to be ready for when normality returns.
It was particularly interesting and enjoyable to hear the emphasis on the curriculum being progressive, promoting a planned, well sequenced incremental curriculum building the components of music knowledge, and focussing on student progress from each year and how we actively plan for that to happen.
The Q&A's which followed continued to pose questions regarding the Deep Dives to which Mark gave excellent clarification on the dialogue with schools and how it is looking at the school through the lens of a subject. It was particularly reassuring to hear the encouragement of the partnerships between schools and the Music Hubs and how we play a key role in working and supporting our school colleagues."
Melanie Purves, Music Lead at Holywell School, Cranfield (nominated Music Mark School)
"I found the webinar useful on many levels. Having the opportunity to have the insight from Mark into what Ofsted would look for in a deep-dive for Music was extremely valuable, but so was the opportunity to connect with a range of other colleagues within the Music education sphere.
It was useful to consider our current curriculum within the guidance that Mark gave, particularly the need to ensure that we try to plan to teach the 'right thing in the right order'. The need to ensure progression across the year groups within school was also an important message. Thinking about assessment as a means of making sure that the curriculum delivers the opportunities for students to make process was also something that I will take away from the webinar."
James Manwaring, Director of Music at The Windsor Boys' School (nominated Music Mark School)
"At the start of what has been a very "different" January, I am so glad that I signed up for the Music Mark Webinar with Mark Phillips, Ofsted HMI.  Having heard Mark speak in the past I knew that I would not only learn something, but also leave inspired and excited to re-look at all I do as a music teacher. I wasn't disappointed and I am still processing everything that was said. The key takeaway for me was the idea of incremental development and providing the curriculum that allows for this. A great webinar that I recommend to everyone working in music education. And Mark is right; "just 'doing' music isn't enough" and we have to consider  we do it. But music must be part of the curriculum and is just as important as any other subject. "Music is Music" and for that reason alone it is essential for all schools."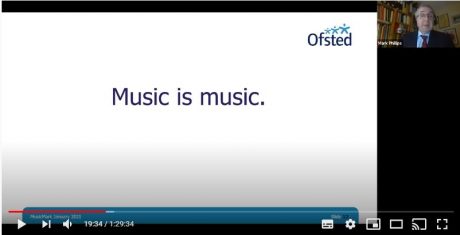 A recording of this webinar are available for Music Mark members to access here. Our Member Webinar series continues, covering topics from wellbeing, licensing, online event delivery, and more. Our upcoming events and member meetings are displayed on our Events page and available to book – we hope to see you there.
With thanks to the contributors of this article for generously sharing their thoughts on this session.