"We believe in the importance of #MusicEd": Schools across the UK are recognised for their commitment
25th January 2023
2,500 schools from across the UK have signed up for their free year of membership to our Music Mark Schools programme.
We're delighted that so many schools have already signed up to Music Mark Schools this year having been invited to join the programme by their local Music Service in recognition of their commitment to music education.
Schools who sign up can celebrate by displaying a certificate and using our refreshed Music Mark School logos. Many schools have proudly shared their achievement on social media.
We have been recognised for the high quality music education offered at Sidegate. Thank you to @SuffolkMusicHub for putting our name forward. We are very proud to accept this award #musicmark pic.twitter.com/lB9EY5i2hr

— Sidegate Primary (@SidegatePrimary) October 11, 2022
For a second year running, we have removed the cost to Music Services so that they can invite schools completely free of charge, which we hope will enable many more schools to make use of our member-only resources, events, training along with the many other benefits of being a Music Mark School. We've also made improvements to the invitation and sign up process to make it smoother than ever before. Music Services are finding that it's simple to invite schools to the programme this year. At Kent Music, Senior Leader, Olivia Edwards said 'We love being able to invite schools to Music Mark Schools as it shows which schools are invested in high quality music education and making music a priority. The process is quick and easy for us and there are many benefits for schools who sign up!'
Music Mark Schools are invited to the programme for a variety of reasons, with some schools further along on their musical journey than others. Some schools may have an active music department with a wide-ranging curriculum and multiple ensembles, while others may just be beginning to grow their musical offering. Common to all Music Mark Schools is a commitment to providing a high-quality music education for all children and young people, and the opportunity to further develop music in their school with our resources, events and training.
We truly believe in the importance of #MusicEd and the positive impact it has upon a pupil's whole school achievement, so we're delighted to receive the #MusicMark award "in recognition of our commitment to providing a high quality music education for children & young people". pic.twitter.com/cSzLTyesIr

— Bridgewater School (@BridgewaterScho) November 7, 2022
Music education is so important! We are proud to have been recognised as a Music mark school for our commitment to music 😀 🎶 @WeAreBDAT 🎶@emma_petts 🎤🎧🎶@BradfordMusic1 🎹🎻🎶@musicmarkuk 🎺 🥁 🎶@RSMusicSchool 🎤🎸 pic.twitter.com/QJWBrz4Idk

— EastMortonCEPrimary (@EastMortonCEP) September 24, 2022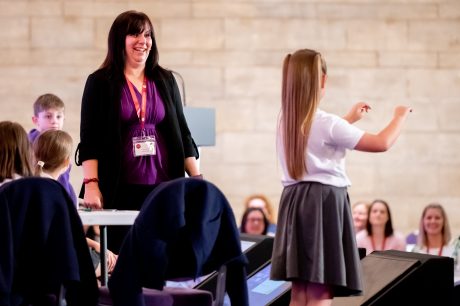 Upon becoming a Music Mark School, teachers can access a wealth of resources including lesson plans, online teaching aids, recordings of our webinars and much more. Music Mark Schools are also invited to attend our events and training, many of which are free or discounted. We were pleased to welcome schools to our Talk into Action Conference Series this year which included events across the country and online in which we discussed the next steps for equity, diversity and inclusion in music education. We were even treated to a live demonstration by Cross Lane Primary School whose 'My Voice Matters' programme offers pupils and adults the opportunity to unlock creativity as a foundation from which to grow and develop. You can find out more about decolonising the curriculum in our Music Mark x Why Music resource with webinars curated by Nate Holder exploring rap, hip hop, blues, steel pan, grime, jazz and much more.
In October, over 300 attendees joined us for An Update from Ofsted on Music in Schools in which we heard from Christopher Stevens HMI, Ofsted's Lead for Music. There's another chance to hear Christopher speak in April when he'll join us to discuss the most popular topic in our recent Twitter poll. You can book to attend this session here and if you'd like to watch any of our previous Ofsted webinars you can do so on our website here.
Ofsted are coming to Music Mark! What topic would you like to hear about?

— Music Mark (@musicmarkuk) January 5, 2023
For Music Services, our Music Mark Schools programme encourages school engagement and provides an opportunity to build on partnerships. At Hertfordshire Music Service, it's an important component of their School Music Engagement Programme. Deena Day, Curriculum Lead for Hertfordshire Music Service says, 'we use Music Mark Schools to recognise effective partnerships between the the Music Service and schools. We have a detailed self-evaluation form which stimulates deep thought and discussion about all types of music in a school and what it means to be a 'musical school'. We offer Music Mark Schools invites on the basis of schools having used this to reflect critically and in depth about their practice and having identified a clear direction for development with the needs of young people at its heart.'
Find out more about how we support schools and teachers as a subject association for music.
Music Mark Schools is open to invitations until the end of the summer term 2023. If you work for a Music Service and would like to find out more about how to invite schools, please do get in touch.