Tri-borough Music Hub Commissions Ambitious New Work
24th March 2017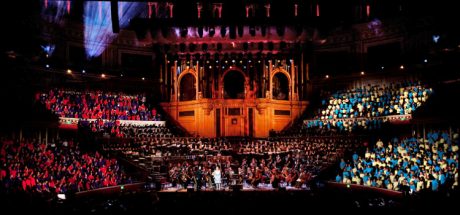 The Tri-borough Music Hub, together with the Royal Albert Hall and Royal College of Music, will lead an ambitious new musical project, kindly supported by generous funding granted from John Lyon's Charity to the Royal Albert Hall
'Convo', an exciting new piece by rising London-based composer and Royal College of Music graduate Charlotte Harding, will be premiered in March 2019. Thanks to core-funding from John Lyon's Charity, this ambitious project will see young musicians from schools across Hammersmith and Fulham, Kensington and Chelsea and Westminster working together on a world premiere which will be performed at the Royal Albert Hall.
'Convo' is a musical journey through human evolution. From our first interactions with nature to a 21st century saturated in technology, this stunning new piece explores the ways in which music gives us voice. Winner of the prestigious RCM Queen Mother Rosebowl award, Harding said
"I am thrilled to have been commissioned to create a work for this incredible project and am very much looking forward to the exciting, innovative and collaborative musicmaking ahead."
She sets the piece out in three movements. The first, Earth Calling, will explore the relationship between nature and musical communication, from birdsong to folk songs. The second movement, Pen to Paper, will focus on the development of music notation starting from the early cuneiform tablets of the Ancient Near East, through to contemporary graphic scores. The final movement, Devices, will reflect the colossal impact of technology and will feature rhythmic Morse Code sections, music for the moving image, and much more!
Following the Tri-borough Music Hub's (TBMH) award-winning Seven Seeds project in 2015, this rollercoaster through time will involve over 1,000 students across the three Local Authorities in its most ambitious project to date. This new large-scale event will be the culmination of an extensive two-year project of development across the TBMH which aims to embed best musical practice as an essential part of school life, giving invaluable musical opportunities to all pupils in the area irrespective of their background.
But the project is not just about a final performance. Manager of the TBMH, Stuart Whatmore says:
"As well as improving the musical life in our schools, we will also seek to strengthen the Hub's ensembles so that high quality performance opportunities and progression routes are available to all."
Click here to read the full press release