Thousands of children to take part in The Virtual Big Sing 19 June 2020
15th May 2020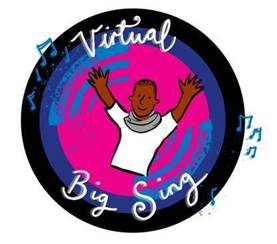 Children and young people across the country are being invited to come together to perform in The Virtual Big Sing 2020, a national interactive digital singing concert.
Being organised by Norfolk Music Hub led by Norfolk County Council, for the third year running, The Virtual Big Sing 2020, will take place on Friday 19 June 2020 at 2pm.
It follows the successes of the Big Sing in 2018 and the first 'Virtual' Big Sing in 2019 which each attracted thousands of participants. Once again it will give children and young people the opportunity to perform with leading musicians and support schools' music education activities.
This year's event is being partnered with music education technology organisation, Charanga and youth music charity NYMAZ to bring the interactive, digital concert to every young person in the country.
Graphic artist Rebecca Osborne will create a visual record of the event.
The Virtual Big Sing 2020 will be led by one of the most sought-after choral directors and arrangers Mark De-Lisser.
As well as performing, Mark will be assisted by some high-profile celebrity singers – the first of which will be announced on Friday 22 May at 2pm, with subsequent celebrities being announced each Friday leading up to the event.
Ahead of that, the list of songs and online resources for children, parents and carers plus school groups of all ages to rehearse in advance, will be launched live on Monday May 18th at 2pm.
Speaking about the event, Cabinet Member for Children's Services at Norfolk County Council, Cllr John Fisher said: "This event will be a fantastic way for children and young people from across the nation to come together in virtual song – and a wonderful antidote to the challenges of staying in during the current crisis.
"As the strategic lead for the Norfolk Music Hub, I'm also really proud that the event is being led from our county – and that it's giving children the opportunity to perform with such talented musicians – as well as supporting our schools during this difficult period."
Emily Penn of NYMAZ added: "We at Connect: Resound are so excited to be working on the Virtual Big Sing! Bringing children and young people together in a celebration of singing feels like such a positive thing to do at this time of uncertainty and we're really looking forward to helping to share some brilliant songs and some truly amazing artists with children, schools and families from all across the country on the 19th June." 
Mark Burke, CEO of Charanga commented: "We're really excited to be working with Norfolk Music Hub on the Virtual Big Sing project and it'll be fantastic to see our materials used by so many families, and the celebrities supporting it. During this uncertain time, it's been great to help the hub enable young people and their teachers to continue to connect and enjoy their music making with Charanga. We hope everyone has a fabulous day and enjoys participating in the performance." 
With Mark De-Lisser summing up by stating: "I am so excited to be involved in the Virtual Big Sing 2020 with Norfolk Music Hub. Getting everyone singing and keeping us all connected at this time is incredibly important for us all and with the friends we've invited, you can't afford to miss this event!"
Children need to be registered to take part in the event. For full registration details and information about how to watch the event, please visit www.norfolkmusichub.org.uk/site/vbs-2020/
Follow the Norfolk Music Hub's Facebook, Twitter and Instagram accounts for updates and details of the pre event launch of the song list and announcement of celebrity participants.
EVENT DETAILS:
DATE: Friday 19 June 2020 (replayed on Sunday 21 June 2020 at 2pm for anyone who missed it or who wants to relive the experience)

TIME: 2pm
LOCATION: Schools, front rooms and gardens across the country or anywhere where you can sing!