Thousands of children and young people to sing across the world for Sing Up Day- Wednesday 22nd March
14th March 2017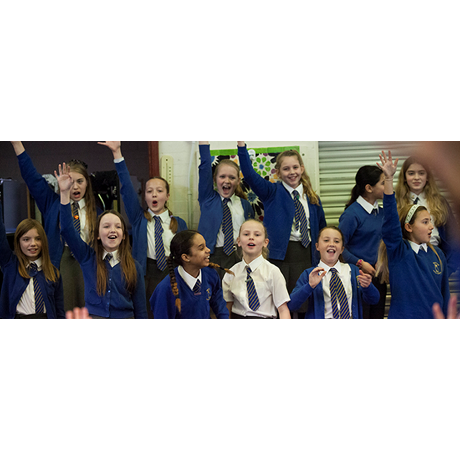 Every year since 2010, Sing Up, the school singing specialists, have set aside a special day to celebrate the power of song. Each year Sing Up releases a special Sing Up Day anthem and schools and singing groups all around the world are encouraged to take part. They then share their performances with Sing Up who create a video, combining everyone's individual Sing Up Day events into the 'Sing Up Day Digichoir'. Each of these 'Digichoir' videos stand as testament to the fact that singing together is a joy shared across the world.
Sing Up Day returns on 22nd March 2017, with thousands of children and young people from all over the world ready to raise their voices and sing together. Sing Up has now reached close to 200 countries and with this year marking Sing Up's 10th Birthday, it is set to be the biggest Sing Up Day yet.
"Singing has remarkable benefits for individuals and groups, but on Sing Up Day the one we focus on is the power to unite. It's incredible to see so many children and young people send in their recordings and videos of the day. Some schools tell us that it's their highlight of the year. It's so moving seeing a choir in Bulawayo or Darwin singing the same song as a group of children in Truro. It really brings home that despite the miles between us, our children and young people are the same, with shared passions, talents and aspirations" said Michelle James, Sing Up's CEO.
2017's Sing Up Day anthem is Let love shine through, written by Emily Barden. Its lyrics speak of empowerment through diversity, variety and celebrating individuality. This year's song features flexible vocal parts to allow groups to perform it a cappella or with an upbeat backing track. With layers of built-up harmonies this allows for all ages and abilities to join in! The song is available to download for free from the Sing Up website www.singup.org as well as an array of accompanying resources including backing tracks, sheet music, lesson plans and a lyric video.
Sing Up Day this year will be a truly international day. From Australia to the UAE to the Scottish borders, schools and groups have been adding their events to the Sing Up Day Map to share what they will be doing to celebrate the power of singing to bring people together! Festivities include whole school singing assemblies, digital link ups, competitions and community performances as well as Big Sing events across the UK and other countries around the world.
The North Tyneside Music Education Hub is running a project working with 21 different schools as part of a three-day festival. They will be using Let love shine through as the finale song each evening.
"Sing Up Day is an opportunity for a school to celebrate singing, but also working together in a school for a common goal. We have taken this a stage further as a celebration for schools working collaboratively and children celebrating their voices together. This, we hope, by including our secondary schools in the process will also enable a smoother transition between schools so pupils feel confident to continue their vocal and music education into KS3 and beyond as they are able to see singing as an accessible activity throughout school life" said Susie Jones, NTMEH Vocal Lead.
We'll be sharing more information about a selection of the events on the Sing Up Day Map to inspire schools and singing groups to take part in the celebrations too. Anyone who would like to be featured, should get in touch with us via support@singup.org. For more information about the day visit www.singup.org/singupday where schools and individuals can download Let love shine through and its complementary resources with some tips about how to take part. We will also be tweeting throughout the whole day – schools can share their events with us at #SingUpDay or @SingUpTweets!