The National Orchestra for All announces search for Young Composer in Residence for its 2019-2020 Season
17th December 2018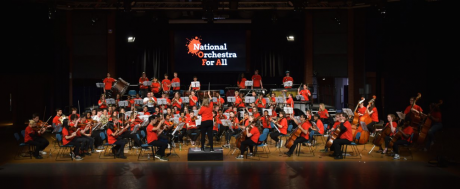 The National Orchestra for All is inviting young composers resident in the UK between the ages of 18-25 to submit their proposals for a brand-new piece of music that the orchestra wants to commission for its forthcoming season.  The new piece will form a central part of this unique youth orchestra's 2019-2020 season which is entitled My Roots, Our Routes. The piece will take its inspiration from the idea of The Silk Road by Land and Sea; exploring aspects of the music of the countries along the Silk Road in two movements, one representing the land route, the other representing the sea route.
In addition to writing the new work the selected composer will become 'Composer in Residence' for the season working closely with the young musicians of National Orchestra for All in developing ideas for the piece and ensuring that it is suitable for the wide range of abilities represented in the orchestra.
The National Orchestra for All – the flagship ensemble of youth music charity Orchestras for All – is an internationally unique orchestra made up of 100 young musicians aged 11-18 from across all four nations of the UK. It is the only non-auditioned, free to participate national youth orchestra in the world. Disadvantaged young musicians who are nominated by their teacher for their dedication and commitment to music in the face of challenging circumstances get an opportunity that they otherwise wouldn't have to experience, and benefit from, performing music in a large ensemble.
The orchestra's 2019-2020 season My Roots, Our Routes will explore the music that has been inspired by human migrations and journeys. The season will see National Orchestra for All perform in prestigious venues in London, Birmingham and Manchester and give the world premiere of the newly commissioned work in April 2020.
Young composers wishing to be considered for the commission and the Composer in Residence role are invited to submit a written proposal together with some additional information before the deadline of 1 February. Full information on application requirements are available on request from Orchestras for All. The successful composer will be notified on 1 March.
More information can be found on our website at www.orchestrasforall.org/call-for-proposals or by contacting Richard Dinnadge, Head of Development and Communications at richard.dinnadge@orchestrasforall.org or on 0207 267 4141.