The Music Mark Conference: a music education journey
12th November 2015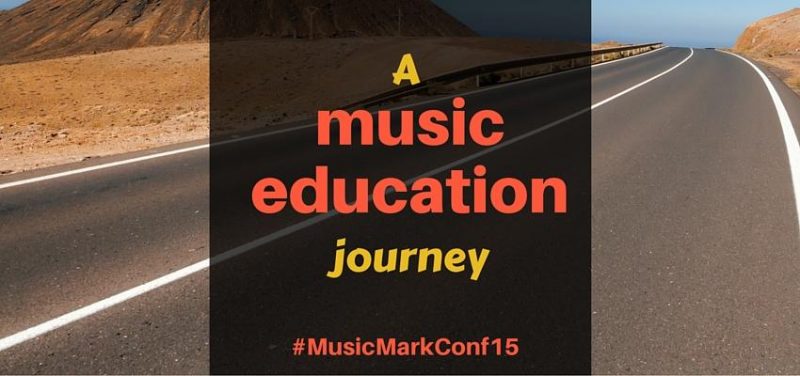 If you were to walk into Music Mark HQ right now, then you'd be forgiven for thinking that we're moving out. Boxes surround us, packing tape is a premium commodity and the only conversations concern travel arrangements and logistics.  Fortunately, we're not preparing for our second office move of the year. We're getting ready for our two-day conference on Friday and Saturday of this week. #MusicMarkConf15 is shaping up to be a fantastic event for anyone interested in music education.
The first day of a journey
We might not be moving office, but we still want some great tunes for the journey. With Warwickshire Choristers performing straight after registration, that's one element of this journey that's well and truly taken care of. Martin Fautley will then take to the stage, leading 'Music Education: A Broad Church', considering the diversity of our sector. If the choristers are the music for our road trip, then Martin's session is the map.
The problem with maps is that you need someone to navigate them for you. Jem Shuttleworth has that in hand with her session, 'Solutions – worth finding, worth fighting for?'. Think of this as your musical GPS for the day. We will consider the challenges ahead and how best to overcome them.
Of course, what better way to cross new terrain than to learn from people who have managed it for themselves. We will explore the routes taken by the Association of British Orchestras, the Royal Liverpool Philharmonic and 'Music and Arts, Brighton and Hove'. With this session taking place right before lunch, our delegates will have plenty of time to consider how these experiences apply to them.
With the journey planned, it's time to go into training. The afternoon will start with some singing led by Katherine Zeserson before delegates move to their chosen workshops. Variety is the name of the game here with eight workshops divided into either 'Practitioner Tales with Tea' or 'Leadership Stories with Cake'. With the knowledge gained in these sessions, our delegates should find that they're more than able to plan their route across the terrain.
As any experienced traveller knows, a journey is much more pleasant when it's shared. To that end, we have dedicated the last part of the afternoon to exploring Music Mark's partnerships. Quick-fire workshops with ABRSM, Arts Council England, BBC Ten Pieces, inspire-music, Musical Futures and National Foundation for Youth Music are sure to give delegates plenty of ideas about who they will want to share their adventure with.
Anyone needing further advice will be able to pop into advice surgeries from Marion Friend, BWB and CaSE Insurance.  Otherwise, there'll be time to browse the exhibitor stands (choosing the accessories that you'll take with you) before dinner (fuelling time…).
Onward bound…
Keeping yourself motivated on a journey is easier when you keep thinking about your goal. To help delegates do just that, our second day begins with an inspirational performance from Northamptonshire County Junior String Orchestra. As if that wasn't enough encouragement, Lincoln Abbotts will be talking about progress. Taking the tools of visual art, dance, business and sport, our travellers will have a variety of strategies for measuring their progress along the road.
With all this inspiration and measurement, it's time to get back into the workshops to build some practical skills. Five 'Perspectives on Progression' will be shared giving our travellers enough of a boost to push themselves all the way through to next year's conference.
As attendees of #MusicMarkConf15 sit down to lunch, their conference journey will be coming to a close. That's why, after lunch, there's some dedicated time for Music Mark's regional representatives to share a few tales of previous journeys that they've undertaken. Each of the ten regions will describe what's happening in their part of the musical world. Inspiring our delegates to start a whole new adventure after hearing about the wonderful work taking place throughout the country.
Every quest needs a reward and Music Mark's conference is no different. To mark the end of two days of exploring every corner of music education, Bromley Youth Music Trust's 'Festival Band' will perform to everyone's delight. With a final address from our Chair, Graeme Smith, our delegates will certainly be ready to travel home and prepare for their own music education expedition.