The Music Mark Awards: Who should you nominate?
29th September 2023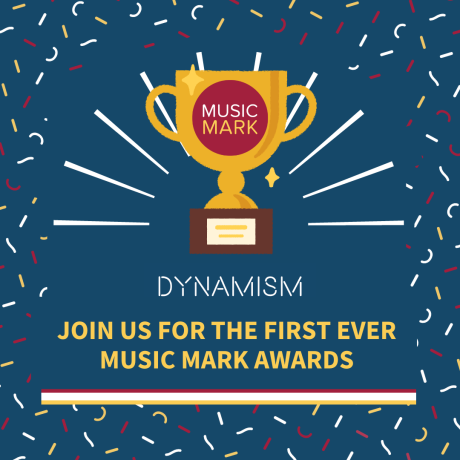 To celebrate Music Mark's 10th anniversary, we are hosting the first-ever Music Mark Awards at our 2023 Annual Conference in Southampton on 27 – 28 November. The Music Mark Awards will highlight some of the great work that is happening around the country. We want to shine a spotlight on the innovative and exciting work being delivered by our members across the UK.
We'd love all Music Mark Members, as well as Music Mark Schools and Industry Partners, to put forward organisations, projects and individuals who deserve a celebration for their work. The nomination process is simple – we just need a few details and a short blurb about the work being put forward for an award. This can be submitted via our online form here, and you can read over the full guidelines here.
The trickiest part may be deciding who to nominate! Taking the Dynamism Award for example, we've chosen this broad theme to reflect the conference, and we'd welcome projects, organisations or individuals who you feel have done something new or innovative over the last year that has had a positive impact. Projects for this award can be large or small, highlighting new thinking and 'making things happen'.
The other awards on offer are the Talk into Action Award which celebrates the work of members that is meaningful and innovative in widening access to music education, improving inclusivity and ensuring our young people and communities are well represented in music-making. The Youth Initiative of the Year Award celebrates youth-led projects, highlighting the work of children and young people in making great music initiatives happen. The final award is the Unsung Hero in Music Education, which will highlight and celebrate work that goes under the radar and deserves recognition.
For any of our awards, nominations could be a nationwide project reaching thousands of young people, or it could be something that has had a targeted, meaningful impact on a much smaller scale. It could be a project that helps teachers and tutors to deliver education in different ways, or it could be a new game-changing resource. It may still be in progress or there may have been bumps along the way. We know there are so many exciting things happening, and we want to hear about them!
Nominations for all four categories – Talk into Action (sponsored by ABRSM); Youth Initiative of the Year; Dynamism Award; and Unsung Hero in Music Education (sponsored by MusicFirst) – are open and we can't wait to read the submissions as they come in.
Nominations close on Friday 6 October at 5pm, and if you have any questions before submitting your choices, please email us: info@musicmark.org.uk