The importance of celebrating successes: introducing the first ever Music Mark Awards
30th August 2023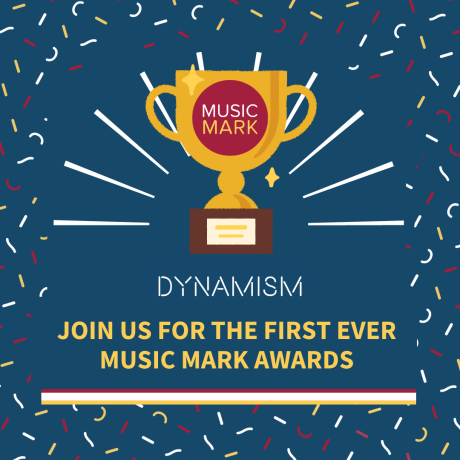 We're not only celebrating Music Mark's 10th birthday this year….we're celebrating you!   
This November, we are so excited to host the first-ever Music Mark Awards at our 2023 Annual Conference in Southampton on November 27 – 28. We can't wait to share this special moment with our delegates and celebrate some of the innovation, dynamism, and amazing work happening across the music education landscape.  
There is no doubt that this has been a challenging year for many working in music education. However, celebrating successes – especially during challenging times – reminds us why we do the work that we do and who it is ultimately for. The Music Mark awards are the perfect opportunity to do this and reflect on the achievements of the Music Mark members helping to provide inclusive, accessible, and high-quality music education for young people throughout the UK. And from youth initiatives and new research to innovative teaching resources and EDI schemes, there's a lot to celebrate!  
With a wide range of awards open to Music Mark members this November, let's take a look at what each category is about:   
The Talk Into Action award
Celebrating a Music Mark member who consistently commits to the values of our Talk Into Action campaign, facilitating EDI across music education. Their work is meaningful, inclusive, and representative of young people and music-making communities. They don't need to have taken part in the Talk into Action campaign, but will be an individual or organisation who is always continuing to learn, knowing that the work to make musical opportunities more equitable, diverse, and inclusive is an ongoing journey.
The Unsung Hero in Music Education award
Sometimes great work across the UK from individuals and organisations goes under the radar. This award is an opportunity to really shine a light on a member's impact on a national scale – not only to celebrate achievements, but to share ideas and inspire others with what is happening around the country. 

The Youth Initiative of the Year award
Celebrating youth-led projects, this award seeks to highlight the work of children and young people in making great music initiatives happen. The only requirement is that these projects are led by youth voices, with no limits on what the project looks like or what form it takes. 

The Dynamism award
And finally, tying in with our conference theme, this award will celebrate the inspirational, bold, innovative, and celebratory work happening across the UK music education sector. Projects can be large or small, and don't have to follow a particular theme, but should highlight new thinking and be a catalyst to 'making things happen'. 
How to get involved:
Nominations for each award will open to Music Mark members in September through a simple form on the Music Mark website. You can choose to nominate yourself or your organisation's own work, but we do ask that you then also nominate another Music Mark member (individual or organisation) too. Our conference awards are a chance for members to learn about and be inspired by each other's work across the sector! 
A specially appointed judging panel will assess the nominations and announce the shortlist for each category ahead of the conference. Winners will then be presented with their award during the conference dinner on 27 November – the social highlight of the event!  
If you're a Music Mark Industry Partner, you can also get involved and support this new initiative by sponsoring an award. Find out more about awards sponsorship and other conference opportunities here.   
Until the Music Mark awards nominations open in September, we encourage you to pause, take a step back, and acknowledge all your wins – big and small – that make a difference to the lives of children and young people every day. And why not take a look at the award categories above and have a think about who you would like to nominate for each one? We can't wait to read your submissions, discover even more of the great work happening across the membership, and celebrate with you in November.  
More information about nomination eligibility criteria and the awards process will be shared on the Music Mark website when nominations open in September.   
To join us at the Music Mark conference and attend the first ever Music Mark Awards ceremony, get your Early Bird tickets here.