Teesside Schools Sing for their Summer!
14th July 2021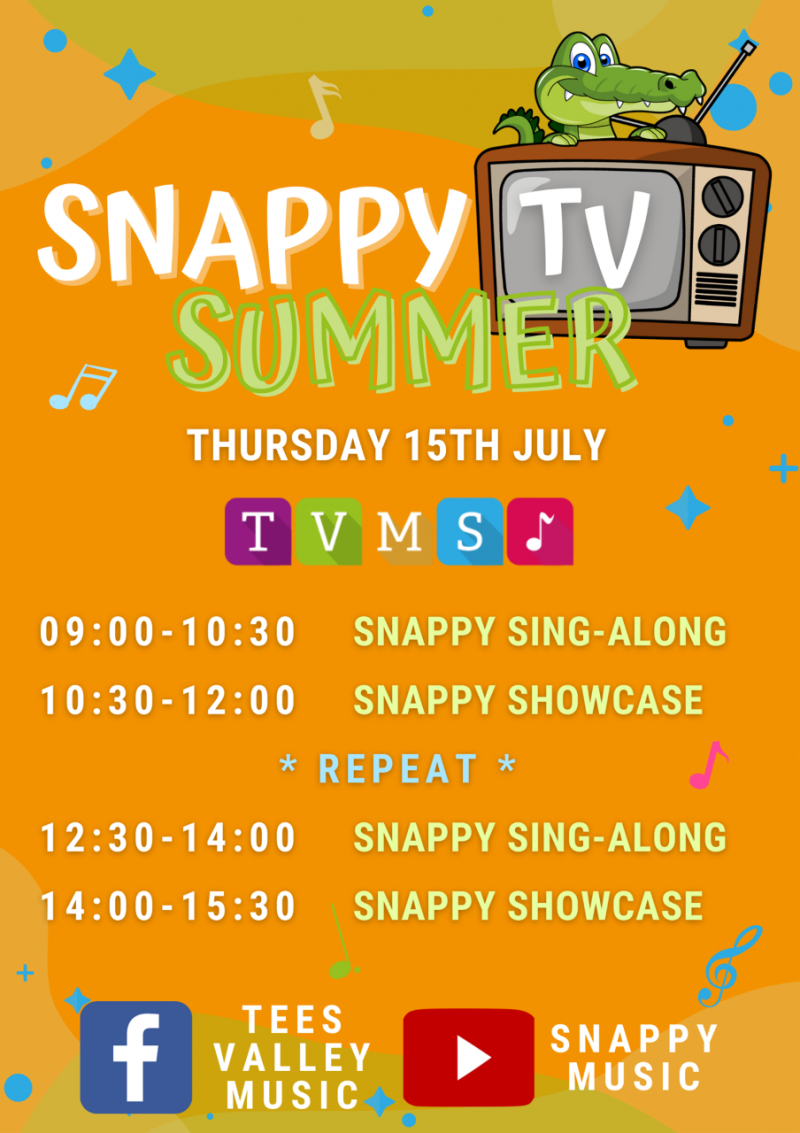 Young people from across the Tees Valley are invited to come together to perform in the Snappy Summer Festival 2021 – an interactive singing concert organised by Tees Valley Music Service (TVMS). Their fourth and largest virtual "big sing" event since lockdowns began in 2020, this uplifting online performance takes place on Thursday 15th July at 9am and repeats almost immediately at 12:30pm.
Primary Schools all over the region have submitted over 100 videos of their students singing and playing music, prepared for them by TVMS, which are all brought together into one sing-along broadcast – allowing children in classrooms or families schooling from home to join in the fun on Thursday.
In normal circumstances, these so-called "Snappy" events bring together hundreds of children in each of the local authorities which make up the Tees Valley, to sing and dance in the same space with a packed audience full of proud parents. Adapting to the ongoing guidance and restrictions, TVMS moved online seamlessly – creating around 300 free-to-use digital resources, offering Zoom lessons, and producing many virtual concerts throughout the year.
TVMS are led by Susan Robertson, who says "making music is more than a hobby and after-school activity for our young people. These activities also improve the mental abilities of children – including memory and critical thinking, improve logic and discipline, improve the emotional wellbeing, and, of course, there's a huge educational benefit. Obviously, these aren't the only advantages. With our Snappy events this year we've supported teachers and schools to do fantastic music lessons with their young people". (Hear more of what Susan has to say here).
Teachers, families and school groups can find the broadcast via the Snappy Music YouTube channel, or via the Tees Valley Music Service Facebook page. The concert will be kept available to watch repeatedly so families may even choose to sing the songs together after school, or at the weekend.
Schools featured include; Harewood Primary, Thornaby; William Cassidy, Stillington; St Paul's, Billingham; St Mary's, Grangetown; St Joseph's, Loftus; St John Emmerson Batty, Redcar; St Joseph's, Billingham; Ormesby Primary; Norton Primary; Overfields Primary, Middlesbrough; The Oak Tree Academy, Stockton;  St Patrick's, Fairfield; Wolviston Primary; Harrow Gate, Stockton; Barley Fields, Ingleby Barwick; St Peter's, Brotton; Belmont, Guisborough; Bader, Thornaby; Chaloner, Guisborough; Yarm Preparatory School; St Joseph's, Middlesbrough; Springwell, Hartlepool.