Talented Young North East Singers Offered Inspirational Singing Experience
4th February 2020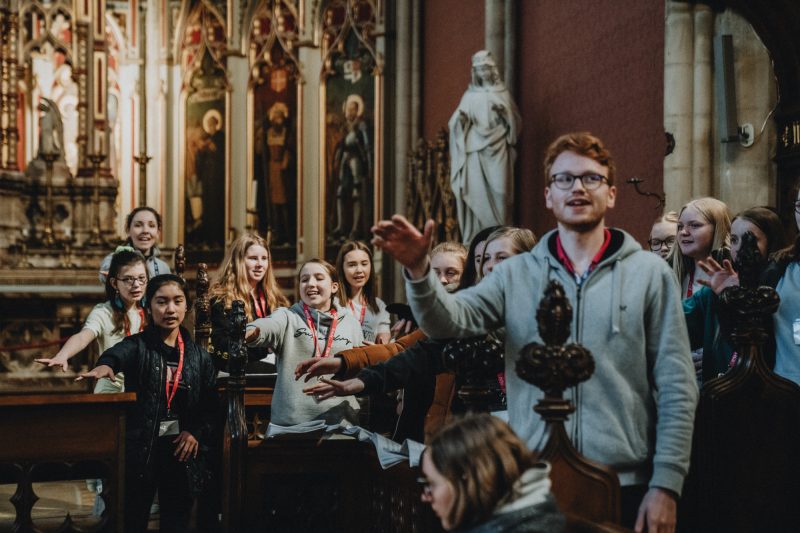 Talented Young North East Singers Offered Inspirational Singing Experience with the National Youth Choirs of Great Britain
More than 60 talented young singers from across the North East region including Newcastle, Tyneside, Northumberland, Durham, Darlington and Sunderland, had the opportunity to experience being part of the National Youth Choirs of Great Britain (NYCGB) this weekend at a free event organised as part of Durham Vocal Festival. The singers aged between 11-14, were identified by their local Music Education Hubs for their vocal potential and put forward for the weekend with the National Youth Choirs of Great Britain (NYCGB) the UK's leadingorganisation for youth choral music, which has its head office based in Durham.
The project is part of a wider collaboration between Durham Vocal Festival, NYCGB and the six North East Music Education Hubs aiming to help more of the region's talented young singers to fulfil their potential and be inspired to take their singing further, and forms part of NYCGB's wider national programme of Learning and Engagement.
Held at Ushaw Historic House in Durham on Saturday 1 and Sunday 2 February, the event was led by Esther Jones, anAssociate Principal Conductor for NYCGB. Over the course of the weekend, the singers were offered an exciting and intensive National Youth Choir style programme of singing and musicianship to boost their vocal and musical skills. On Sunday afternoon, friends and families were invited to a free performance by the group held in the stunningSt Cuthbert's Chapel. They proudly presented a range of music including pop, gospel and classical numbers, learned during their two days on the course. This opportunity was open to all keen singers regardless of their singing style or musical background.
Anne Besford, NYCGB Chief Executive said:"We're delighted to be able to offer this unique opportunity to such talented young singers based in the north east of England,both to develop their skills and inspire them to progress their singing regionally and nationally. We were incredibly impressed with the standard of singing and what was achieved in just two short days. We're delighted to be running this activity as part of the Durham Vocal Festival which is an excellent initiative that supports choral music across the region."
Mike Summers who manages Durham Music Service said:"This was an inspirational two days of singing for the young people involved and also for the staff of the Music Education Hubs that came to the sessions. The standard of singing was exceptional and acted as a fantastic springboard to deeper progression routes for all the young people involved. The National Youth Choirs of Great Britain are the pinnacle of youth singing in this country and it is amazing that these young people were able to experience a 'taster' course. We are thrilled that once again this is part of Durham Vocal Festival."
The taster weekend was made possible with the kind support of The Gillian Dickinson Trust, Durham Vocal Festival and the six North East Music Education Hubs:Durham & Darlington, Gateshead, Newcastle, Northumberland, North Tyneside, South Tyneside, Sunderland, Tees Valley music service.
Alexander Dickinson, The Gillian Dickinson Trust said:"We were very pleased to be asked to provide support to enable young singers from the North East to participate in such an inspiring event. We hope that these young singers will take their singing further and go on to fulfil their potential."
NYCGB holds auditions for its five choirs every year. For more information go to:www.nycgb.org.uk
Further information about Durham Vocal Festival can be found at:http://www.durhamvocalfestival.co.uk/
Further information about the Gillian Dickinson Trust can be found at: https://www.gilliandickinsontrust.org.uk/