Stormzy, Mozart and all that Jazz – Huntington School can do it all
7th June 2019
Words and photos by Stephanie Kennedy
Secondary School Music is currently in crisis. There are falling numbers of students taking up A level Music, in some places GCSE music has been relegated to out-of-school hours, and many teachers are underqualified or over-stretched. It makes for depressing reading and has left parents feeling desperate.
But when Strategic Manager of York Music Hub Molly Newton invited me to visit Music Mark School Member Huntington School, I was taken aback. Because if ever an antidote existed to bad news, I believe it can be found in the sound of music and lively chatter wafting through the corridors of Huntington's Music Department. "It's all about the students" I'm told by the school's Music Director Liz Dunbar, but after several emails prior to my visit about the importance of inclusive music education, a thorough and energetic tour round the department, and witnessing first hand the Music team's vibrant and positive manner with students, it's hard not to give credit to the hardworking teachers.
Still, I have to concur with Liz – it really is all about the students. She tells me how they take ownership and lead aspects of the department's very own version of Radio One's Live Lounge. "A few years ago, I looked at the school concert format and thought; people actually make parents sit through this? Parents are just waiting for the bit when their son or daughter comes on and sometimes it's a bit flipping tedious". Did I tell you Liz was straight-talking? "So I started thinking about it like tapas – that's how people eat now, they graze. Or people are using their iPads whilst watching Netflix. Life's changing. So what we do now is 20 minute programs, and the audience moves whilst the musicians repeat their set in the same place. It started off as three spaces, but the audience got so big it's now across five. What's lovely about it is the intimacy, so like the BBC live lounge, it's not a stadium concert, and most performances are unplugged." Later I meet Hannah Kirk from year 12, who tells me she was in charge of listening to all the performances from groups in year 9 and 11 and making sure they were up to scratch before the night. "They all did really, really well", she tells me with a smile.
Huntington is not a private school, nor is it part of an academy. And yet, this comprehensive secondary school runs thriving A level and GCSE courses, and both the number of participating students and exam results remain well above UK averages despite the national trend. Molly tells me that the Music Hub reached out, not to help with the tuition but to "amplify all the fantastic work they're doing!" They will be joining the  York Hub Fest Gala this June 23rd, a showcase of local talent and what promises to be "the biggest youth music festival the city has ever seen!".
During my visit I meet a number of colleagues from the Music Department, including peripatetic teacher Buffy Breakwell, who they pay from concert money profits to run one of the 3 choirs, a sax ensemble and Big Band; and Ian Wilson, Music Tech specialist and a gigging musician who trained as a teacher at Huntington. "There are a lot of shop-window music departments where you hear of great results and fantastic concerts. We do all of that but we start at the core", Liz tells me as we continue our tour. "This has to be a quality experience for everybody, not just for the fringe few. There's an awful lot of Key Stage 3 students who are 'occupied' in music, and there's a massive difference between being occupied, and actually being taught things. Some people think teaching music simply means listening to dead white composers, that it has to be something off a piece of paper.  You might very well have a classroom full of obedient students who are repeating the material that you have given them, but what are they actually learning? What are they taking away that is new, that will feed into their lives and fit into their musicianship? What we do is give students the skills to be a musician, and to just generally enrich their lives and make them feel proud of what they do. You see, the bigger picture of music education is that it's really good for your health."
Dead white composers seem to be getting a lot of heat these days, and recently the press misconstrued a Youth Music report as a recommendation to teach grime artist Stormzy instead of Mozart. (Stormzy later posted on his Instagram stories: "The British media just got me beefing Mozart. I do not want to beef Mozart. Mozart is my guy. Peace"). Liz affirms the curriculum remains broad. "This is a music education and it needs to be a balanced diet.  We look at everything, from soundtracks to folk, rock, pop, jazz, world music, or whatever the unit of work is we're doing. I hate the kind of curriculum where you just go and do whatever's currently popular. Everybody has different tastes so you're never going to win the students over that way anyway".
I put the Stormzy vs Mozart question to a group of Year 12 students I'm introduced to by Liz, who then promptly leaves the room so that the students can say "what they really want". Their answers are confident, articulate and persuasive. One tells me; "I personally would prefer studying Mozart to Stormzy. Mozart is so complex, that studying him improves someone's musical understanding further. If  you taught Stormzy in a music lesson, and then gave them a piece of Mozart, they wouldn't have a clue what was going on. But if you gave them Mozart first, they would really understand the foundations of music".  From across the table, another disagrees: "The music Stormzy produces and writes is so different to Mozart, that it's very difficult to compare the two in the same way. It's as much about the intent of the musician as the means by which they produce the music. So where classical terminology would be appropriate to apply to a piece of Mozart, I don't think it would be appropriate to apply to a piece of music by Stormzy". A fellow student continues; "I think we should study both music that is popular now as well as all the music that is from before. We should try and learn from different genres as it might be beneficial for people to study what they enjoy listening to. Mozart is great but it's not for everybody. And I think it's important to keep people engaged and to have a wide variety of music."
This wide variety is reflected in all that I see and hear at Huntington. I meet Holly Lawson, who was introduced to the Cello at school and now goes to Leeds College at weekends with a scholarship; Holly Boyle, who likes to sing Ella Fitzgerald; Doogie Buchanan who studies 3 Sciences for A Level but chose Music as his 4thas "a creative outlet and to exercise my mind in a totally different way". Will Clark, who turned down a place at Chetham's School of Music to continue his A levels at Huntington, and who has just got a place in the 1st Violins with the National Youth Orchestra. Then there are friends Harris Thomas and Harry Smith, who fused their names to form electro pop duo Tommy Smith. When I meet them in the studio, I feel like I'm speaking to two seasoned DJs. "We released an EP towards the end of March, beginning of April, and then we released another to be consistent". I hang around and listen to their single Time Machine, which is the schools' official song for their upcoming Arts Festival. It has vocals from class mate Holly Boyle. It sounds really good.
I also meet students who don't study music at A level but came to Huntington as they saw how strong the Music Department and its extra-curricular offer were. Josh Hanham who sings in the Man Choir amongst other things, gives up his Fridays after school to rehearse, and vocalist and orchestral percussionist Ros Cooper, also from year 12, studies Spanish and is doing her coursework on flamenco artist Rosalía. "I like how she is so controversial, because she's not a gypsy, which is what you're supposed to be if you're a flamenco singer, but she does it anyway and mixes it with trap."
The message at Huntington is loud and clear; music is fun, it is for everyone and it makes you a better, more rounded human. Tim Burnage, the driving force behind Man Choir and in charge of Music Tech A level, works hard to get that message across to students, and parents too. He tells them Music is a viable subject to study at A level and that it can lead to interesting and varied jobs. But he also insists that it can take you to unexpected places. "We contacted alumni who had studied with us and asked what they did now and if music continued to be of use to them. The response was fantastic". Tim leads me to his display outside the classroom. "For example Ben did Music Tech with us and now he runs his own film company and earns far more money than his parents ever did, because that's sometimes a worry too. Then there's Hannah, who went and studied International Relations in Chinese, ended up in China for a year without speaking the language but discovered they had music in common and so connected that way. What we try and do is tell these stories to parents who might think that no one gets a job out of music. But there's lots of things that you can do with music and there's also other things that you can do which seem unrelated but you achieve thanks to music. I mean, I don't know that many professional mathematicians, I don't know many professional geographers, studying French doesn't make you French. They are all useful subjects because they are a group of qualifications that open doors for you. People want to see a direct link between qualifications and work, but actually, it isn't there really, or not in the way that people think it is."
Focusing on the journey and the process rather than the end product is very much part of the ethos at Huntington Music Department. For their annual Arts Festival, which also showcases the work of the Art and Drama students, Liz tells me she always prefers the rehearsals as opposed to the final performance. "Parents come to the event and love it but I tell them it isn't really about that. If only they could have seen their kids in the run up, working in collaboration to bring it all together. That's where the learning took place.  The final artefact is like Marmite, and not because you either love it or hate it. Marmite is the by-product of beer brewing. It's what's left over after all the hard work."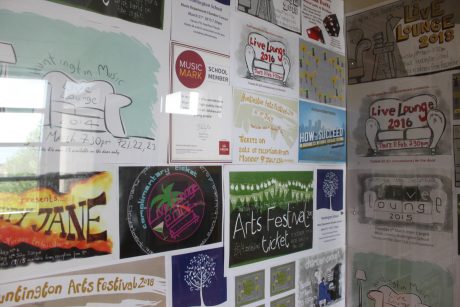 Huntington students will be performing at York Hub's forthcoming Music festival weekend at the Gala Concert and Sunday Showcase. Tickets
Huntington's own Summer Arts Festival "One Giant Leap" is open to the public on Thursday July 18th.
Huntington School is a Music Mark School Member, nominated by York Music Hub. Read HERE for more on School Membership.