Schools across the country celebrate Music Mark School nominations
6th October 2020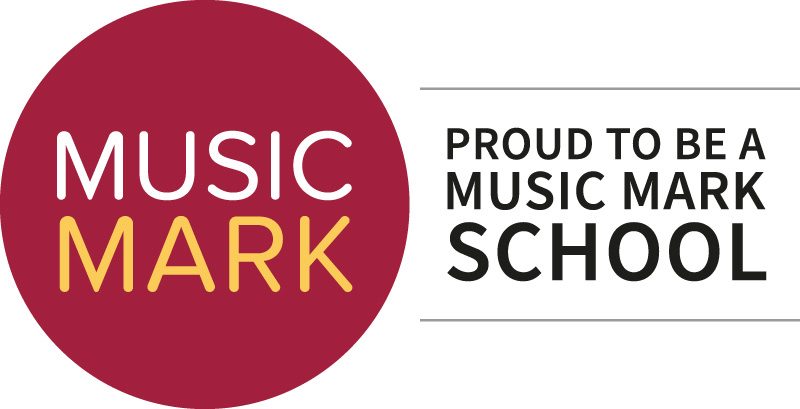 For the last few weeks, Music Mark have been busy sending out welcome packs to schools across the country to inform them of an exciting nomination. Through the Music Mark School nomination system, selected schools all over the country have been recommended to receive special status for their commitment to providing high-quality music education.
This year over 90 Music Hubs and Services have participated in the Music Mark Schools nomination system to allow for local schools of their choosing to become members of Music Mark for one academic year, free of charge. The requirements are flexible, allowing for schools at different points in their musical journeys to be eligible. To be nominated, schools must demonstrate a commitment to providing high-quality music education for all children and young people. In practise, this may vary from having an active music department with multiple choirs and ensembles, to a school which is just beginning to incorporate more music into the curriculum. A nomination simply means that the local music hub/service has recognised a commitment to music education and wants to celebrate it.
After a challenging year for many within the education sector, to receive this recognition for hard work under difficult circumstances is significant.
Mrs Libby Matthews, Headteacher at Peatmoor Community Primary School said after being nominated by Swindon Music Service "we very much appreciate the recognition. We do love music at Peatmoor and really value it too so it's lovely to have the recognition for this."  
Music has helped numerous teachers and students adapt to the reopening of schools, regain a sense of normality, and perhaps most importantly, have fun! On receiving the nomination from Tri-Borough Music Hub, Ed Watkins from West London Free School said "putting music at the heart of school life helps brings us together as a community and it's great to have support from Music Mark as we continue to build the case for a rich musical life in our school."
The nomination is both celebratory and practical, giving the school member-only access to a wealth of discounted training events and free teaching resources including risk assessment templates, lesson plans, and Coronavirus guidance. However, most excitingly for many schools, the accolade also brings a certificate and use of an exclusive school's logo.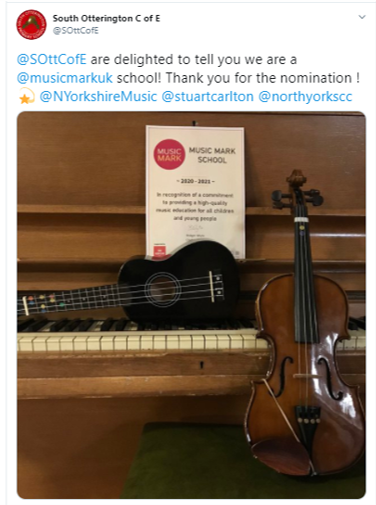 Many schools have got in touch or taken to Twitter and local news outlets to celebrate the news and proudly display their certificate with their wider community. We've shared some of our favourites below:
South Otterington CofE said they are delighted to be a Music Mark School, showcasing their certificate artistically….
….whilst Greatwood Community Primary and Nursery gave a special shoutout to their staff and music leader for helping them to achieve the nomination.
St Augustines Academy were nominated by Inspiring Music Central Bedfordshire. Amanda Howes told us "we are delighted to be a Music Mark school.  Music is a pivotal part of our Curriculum which plays an important role in the holistic development of the child.  The tuition provided by Inspiring Music is both enjoyable, engaging, and inspirational."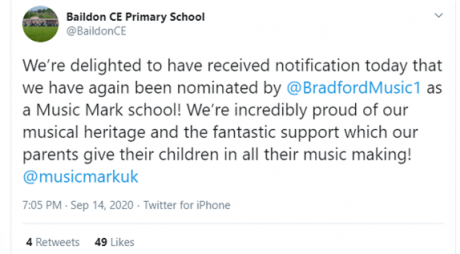 Baildon Primary from Bradford are 'incredibly proud of their musical heritage' and the fantastic support from parents and the wider community.
Mrs Lynda Rondeau, the Music Lead at Westbourne School, told us after being nominated by Sutton Music Service  "we are so excited to be nominated again as a Music Mark School especially as we love to bring our school alive through the sound of music! Our children engage regularly (even during these challenging times) with music, whether that is through learning  a new instrument, such as African drums or the Ukulele, or even learning how to sign songs (until we can all sing again together).  The children are always enthusiastic, engaged and energised  before, during and after music their music lessons."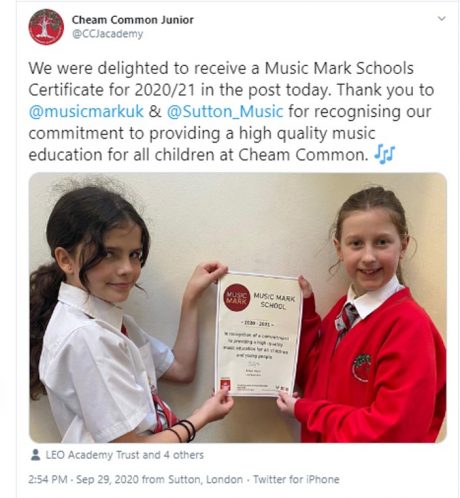 Cheam Common were delighted to receive their certificate in the post from Sutton Music Service, Cognus Limited.
Upon receiving the welcome email and nomination by Derbyshire Music Hub, Mrs Jones, Principal of Hope Valley College said  "[the nomination] has cheered my day and makes me very proud of our school. We work hard to keep our music provision and are delighted that this has been recognised.  Our school has always had a great reputation for the arts, alongside the high number of pupils who are learning to play an instrument, it is one of the reasons I wanted this job." 
If your school has received a nomination,  please do share your celebration and thoughts with us – we'd love to hear what being a Music Mark School means to you! Find us on Twitter at @musicmarkuk and Facebook @UKMusicMark.