Rockschool release brand new guitar, bass and drums grade books for 2018
29th August 2018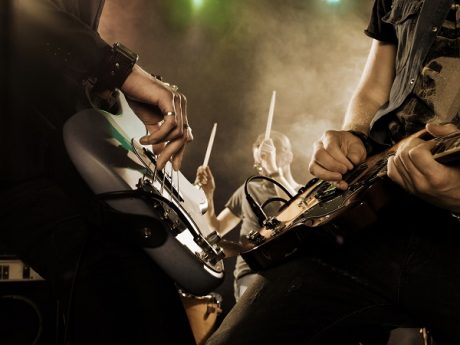 Rockschool, the world's first graded music exams for rock & pop music, is back with a brand new suite of books for Guitar, Bass & Drums for 2018
Coming September 2018: Rockschool's brand-new Guitar, Bass, and Drums material for grade exams (Debut – Grade 8). Featuring over 170 new songs, from 100 worldreknown artists, across 7 decades: each performance piece has been commissioned, re-arranged (appropriate to grade), and recorded to reflect popular music's heritage, evolution, and most contemporary incarnations. From blues, rock, pop, soul, funk, R&B, jazz fusion, reggae, punk, and alt rock; to producer led genres such as RnB, grime, hip hop, dub-step, and various other digitally produced genres.
The roster of classic and contemporary artists includes: Ed Sheeran, Jimi Hendrix, Green Day, AC/DC, Nirvana, Bruno Mars, Eric Clapton, Prince, Adele, Beyoncé, Sam Smith, The Beatles, D'Angelo, Justin Timberlake, Rhianna, Drake, Chaka Khan, U2, James Brown, Grace Jones, Earth, Wind & Fire, Bob Marley and the Wailers, Snarky Puppy, Tower of Power, Marvin Gaye, Erykah Badu, Coldplay, Queen, Nirvana, Stormzy, Fugees, David Bowie, Stevie Wonder and Michael Jackson – to name just a few!
"The 2018 release of new syllabuses for Guitar, Bass and Drums sees a brand new direction for Rockschool qualification. Whilst maintaining the key technical skills that industry demands, we've been able to include the most diverse selection of contemporary music ever seen in a syllabus. The styles of music covered make the grades accessible to everyone, without precluding any musical tastes. We really hope that this will allow students to connect with the music they love as well as discovering completely new genres to express themselves through, all arranged and benchmarked for the correct level of skill and technique. The recordings are the best quality we've ever produced, being recording in a world class studio with some of the finest session musicians and artists in the world."  Tim Bennett-Hart Head of Academic.
Each arrangement has been written and performed by top session musicians who have worked with some of the biggest names in rock and pop. Recorded live at the world renowned Real World Recording Studios, each track features live instrumentation and first rate performances delivering an unrivalled level of feel, authenticity, and musicianship.
Each book is available in both physical and digital versions, and contains all the essential music theory and performance techniques needed to pass the exam. Every Rockschool syllabus combines unrivalled industry relevance and academic credibility, giving students a wealth of technical, stylistic, and theoretical knowledge. Whilst written by musicians for musicians, academic rigour has remained an utmost priority throughout; making them the essential tool to master your craft, grade by grade.
For more information about the book, exam and qualifications, visit the Rockschool website.