Richard Jeffries' Churchill Fellowship Travels
14th October 2020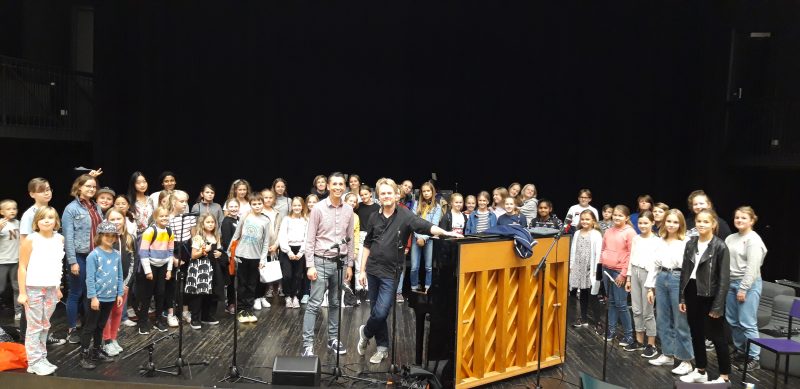 Choral Director and music educator Richard Jeffries was awarded a Churchill Fellowship, from the Winston Churchill Memorial Trust, in 2019. This enabled him to travel to Finland, America and Canada to researching the power of singing and its effect on learning. He witnessed exceptional musical practise in schools and choral organisations across a 7-week period last autumn.
"A child sings before it speaks, dances almost before it walks.

Music is in our hearts from the beginning."
This famous quote from Pamela Brown seems to sum up what it means to be human. It's describing something that is, arguably, the most natural thing anyone can do. Music is possibly the most powerful medium available to us: it binds everyone together, whatever our culture, colour, language or beliefs. Its life-changing impact, in all its forms, should be available to every person – and every single child growing up.
The idea that children sing before they speak is fundamentally about voice exploration. Babies and toddlers love to explore their voice and are very quick to pick up sounds, words and pitches. Learning to sing means using an instrument we all have – which in turn gives us heightened musical skills and develops a host of others!
In recent years, as a choral conductor and music educator, I've been increasingly aware of the power of singing and how it can transform young lives. Sadly, not all children in the UK have access to quality music education or choral singing – it's very much a lottery.
Why visit Finland and North America?  The Finnish approach to music education impacts global skills such as critical thinking, problem-solving, cooperation, creativity, initiative, teamwork, literacy and numeracy skills. Finns believe that no child is too young to learn music.  North America houses some hugely inspirational choral organisations, providing a massive impact on music education for young people via their communities.
Ordinary schools in Finland usually provide 1-2 lessons of music per week, and some apply to do more than this. I visited one ordinary school that provides 4 hours every week, in curriculum time.  There are also 97 Music Institutes scattered across Finland that are part funded by the government. These music institutes provide an extension to the school day (which ends early at 1 or 2pm). The funding received from the state and municipalities signifies that music is held in high regard here.
Then there are 'music play schools'. Attending these is the one most popular activity for pre-school children – again, supported well by the government. There is no equivalent to this system in the UK. Music – and using the voice – is actively encouraged from birth. Research here in Finland shows that a musical education, which starts with singing, makes a huge difference to how the brain works and learns. Timo Klemetinen, from the Federation of Finnish Music Schools makes this very clear:
'Research shows that the brain actually changes – it's a physical change, like muscles when you exercise. Other impacts are making learning languages easier – it's much more effective to learn through music (eg singing). They learn faster!'
'Trust' is the key word in Finland. Although there is a core curriculum, teachers are given the flexibility to deliver lessons that are based on the child's needs. It's incredibly child centred. There are no national tests (until age 16) and no school inspections in Finland.
The UK government places so much importance on testing and inspections that teaching has moved away from the child in many ways in order to tick boxes and reach targets. The UK spends £40M on the SATs tests every year – and an astonishing £207M every year on school inspections. Imagine how that money could be distributed to music education.
Perhaps if our teachers had more freedom to include creative subjects like music, without endless test prep, we would switch more kids on to learning!
Whilst I was in Finland, I was lucky enough to visit two amazing children's choirs. The Tapiola Children's Choir, conducted by Pasi Hoyokki, and Vox Aurea, Conducted by Sanna Salminen, impressed me enormously. Their ability to sing in multiple languages with a very distinctive tone was stunning. Both these choirs are known around the world and provide a further extension to their already rich musical opportunities!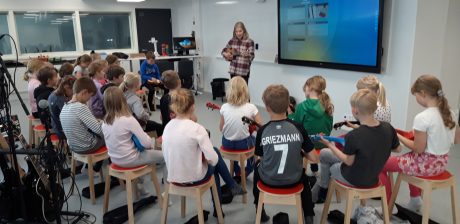 My travels took me to northern California, Indianapolis, the Chicago area and districts around Toronto. My mission: to compare how school music works here with Finland – and how amazing choral community organisations are filling an important gap.
The education system in the USA and Canada has more similarities with the UK than Finland. Music education can be patchy, but where I found it, it was of very high quality. I was lucky enough to observe excellent school practitioners in California and Indianapolis, which ranged in age from pre-school through to all levels of primary – both private and state. I also had the pleasure of seeing excellent music teacher training in action at Holy Names University, northern California, within their Kodaly centre. Good teacher training is key to quality music education!
All school music lessons I observed saw the children totally engaged. There was never a raised voice from the teacher and the lessons were pacey. The teaching methods used were generally based on Dalcroze and Kodaly – approaches that use hand signs, pattern, movement and gesture to emphasise musical concepts. This was reinforced at the Kodaly university centre in California, where their music teacher training was given to a very high level. Interestingly, very few lessons included instruments and all musical concepts were taught through the voice or body.
Although music education in schools was variable, I came across some absolutely stunning choral organsations which are filling a 'gap in the market', so to speak. The Indianapolis Children's Choir was one such example, which serves an amazing 2500 young people and children every week through its weekly rehearsals and school outreach programmes. I wasn't short of other similar organisations to visit: Piedmont East Bay Children's Choir, San Francisco Girls Chorus, Naperville Young Singers, Glen Ellyn Children's Chorus, Hamilton Children's Choir, Oakville Choirs and Toronto Children's Chorus. Every single one of these provide outstanding musical opportunities from pre-school up to school leavers. Every rehearsal I observed was jam packed with pacey, fun instructions and learning was fast.
What struck me about all the choral organisations I saw was this: every child was a musician. All rehearsals included theory and sight reading – and by the time the choristers reach their teens, they are proficient music readers. Here in the UK, singing is all too often viewed as a separate skill – musicians play an instrument, singers sing – yet what became clearer to me than ever is that singing is a crucial part of being a musician. It cements musical concepts in a way that purely external learning on an instrument doesn't, as all the young people I spoke to testified.
The other important observation was this: learning music using the methods I've described, be it in schools or in the community, develops young minds in an incredible way. It connects both sides of a child's brain, crossing the 'hemispheres'.  This process drives up confidence, listening, language, numeracy and memory skills – positively impacting on learning in all areas. It also develops teamwork and collaboration with an emotional element that comes through the music – it has unique qualities that every child should have access to. Zimfira Polaz, Artistic Director of the Hamilton Children's Choir and originally from Kazakhstan, sums this up brilliantly:
'There is so much brain involvement and how it affects development. The solfege (Kodaly method) and movement simultaneously – doing several things at the same time – helps this immensely. From my travels I see that music in schools improves all other skills: maths, language and geography, for instance. In Kazakhstan every class was a choir and would have music lessons three times a week. Kids now live in this world of phones – they are missing out if we don't get back what was in schools.'
My travels may be over, but now the real work starts: putting into practise everything I've learned. This starts with the Singing Community of Choirs where we already provide unique opportunities for local children, young people and adults. I am excited at the prospect of this growing even more both in our weekly rehearsals and the wider community – although our current focus (like everyone else!) is to try and keep going online through our current health crisis.
Music in schools is crucial too – music should be at the heart of every single one. We must educate the government, teachers and parents in the value of music. It's not an 'add on' – it's critical to our human experience.
Richard is Artistic Director of Singing Community of Choirs – an organisation of 5 choirs from age 4 to adult. He also conducts several other choral groups and delivers school workshops. Find out more about his work by visiting www.richardjeffries.co.uk