ReSEND Summit 2018 – A report
11th January 2019
Merseyside's place as the most successful and creative centre of the UK's music industry is self-evident to anyone with a passing knowledge of popular music history. Music education, therefore, is highly valued as the key to the continuation of the area's huge legacy of successful music production. Regional Music Hubs are the pivotal centres of music education provision for schools across Merseyside, providing resources, instrumental and curriculum teaching, CPD and network training opportunities to mainstream and SEND schools. The boroughs of the city region are served by four independent hubs: Resonate Music Hub working across the city of Liverpool; Sky Music Hub covering Sefton and Knowsley; Accent Music Hub covering Warrington and Halton; and St Helens Music Hub covering St Helens area.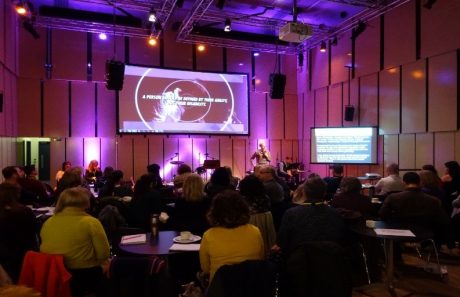 Music Hubs often work independently of each other, but a recent successful event held in Liverpool highlighted the power and efficacy of Music Hubs collaborating and sharing resources to deliver a ground-breaking showcase event.
The ReSEND Summit 2018 provided a dynamic meeting point for more than 100 special school Music teachers and coordinators, freelance Music education providers, and staff of Music Hubs and Arts Funding Organisations. This one-day event was organised by the Merseyside Music Education Hub Alliance in collaboration with DaDaFest, Merseyside's leading provider of opportunities for developing, showcasing and promoting disability arts programmes.
Challenge. Equip. Inspire.
The event was held in the Music Room venue, part of the world-famous Liverpool Philharmonic Hall, on Friday 30th November 2018. Being at the heart of the cultural quarter of Liverpool, The Music Room provided the perfect setting for a day of presentations and activities, designed to inspire and challenge SEND Music practitioners to reshape their practice and equip themselves for the exciting possibilities being offered for music education in the 21st century.
Delegates were welcomed to the event by Jonathan Dickson, director of Resonate, Liverpool's Music Hub, who then introduced the keynote speaker for the morning session, Lloyd Coleman. As an Associate Director and formative member of the British ParaOrchestra, as well as being a regular presenter of BBC Proms and BBC Choir of the Year programmes, and a renowned composer in his own right, Lloyd is perfectly placed as an ambassador for inclusivity of disabled people in arts provision. Lloyd began his address by recounting his own inspiring journey from early experiences of learning to deal with his hearing and sight impairments, through his discovery of the joy and exhilaration of music-making, and his fight against restrictive attitudes to gain a place at the prestigious Chethams School of Music in Manchester, then on to a hugely successful career working alongside the founder of the British ParaOrchestra, Charles Hazelwood. Lloyd concluded by introducing his audience to a series of ground-breaking music performance projects that he has recently been involved with, which highlighted how innovative and creative disabled arts can be, a theme that would be revisited throughout the ReSEND Summit.
Lloyd's uplifting presentation was followed by leading figures of the DaDaFest organisation delivering a fascinating insight into their work and rationale. Ruth Gould, the Artistic Director of DaDaFest, and Project Manager Sam Wade, explained the strands of DaDaFest's remit to develop and showcase excellence in disability arts, including their regular festivals – Young DaDaFest and DaDaFest International – celebrating the best of disability arts in Music and the performing arts. This presentation was concluded with a live performance by a band of music students from Liverpool special school, Bank View High School, who call themselves Six for Tennis. Their raucous punk-inspired sound and have-a-go attitude were a joy to watch and hear, and the audience gave rapturous appreciation for a performance bursting with confidence and swagger, from a group who obviously feel that music is at the core of their education.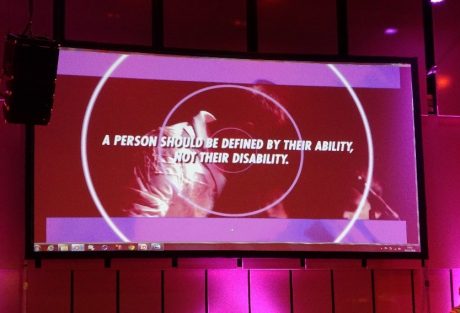 After a break allowing delegates to mingle and share ideas and inspirations, the activity continued with a series of presentations from leading providers of educational Music resources. The first of these was from Charanga Music School, the award-winning digital music resource that has grown enormously in size, quality and status in recent years. Ben Sellers, a Charanga training expert, demonstrated a number of innovative new tools and activities that have recently been introduced into the Charanga offering, allowing participants to build up complex and exciting musical textures through very simple interactions with touch-screen technologies. Several delegates took part in a hands-on demonstration, improvising a highly professional sounding piece of music with a few simple movements – very impressive to behold, and an immediate success with the audience.
The second presentation in the series was from Live Music Now, the largest music outreach programme in the UK. Karen Irwin is the Strategic Director for Special Needs, and also the Director for the North-West region. Karen explained the background and the current focus of the organisation, as well as unveiling some exciting news about funded project development for the next few years. The main focus of Live Music Now is to train young accomplished musicians to perform and deliver workshops in special schools, and more recently the organisation is starting to offer CPD opportunities to school staff to enable them to continue delivering high quality music experiences for their students. Live Music Now promotes a vision of a musically fulfilled and healthy society, and this was clearly illustrated in Karen's heartening presentation.
Next to present was Barry Farrimond, founder and CEO of the Open Up Music organisation and the Open Orchestras project, in which young disabled people are enabled to participate fully in orchestral performances using a mix of traditional and adaptive instruments, and high-level technology allowing music-making with, for example, even the slightest eye movement. Barry's mission to bring full inclusivity to orchestral music-making is truly inspiring, and his presentation about the recent developments and future plans of the Open Orchestra programme was warmly appreciated by delegates working with children who are so often overlooked when it comes to music-making opportunities.
The final presentation of the morning was delivered by the Project Manager of the BBC Ten Pieces programme, Chloe Shrimpton. Chloe gave a description of the existing Ten Pieces resources: a series of videos presented with child-friendly introductions that showcase many of the best pieces of orchestral music, from early Baroque masterpieces through to modern works featuring contemporary technologies and composition techniques. Chloe enthused the audience with her description of the comprehensive range of resources and activities provided through the Ten Pieces programme, which represents the BBC's largest ever commitment to music education. She concluded with a declaration of more plans for the future, including a new set of pieces in production, and a teacher CPD programme to maximise impact in the classroom.
After such a busy morning of being introduced to a wide variety of exceptional Music teaching resources, and stimulating presentations and discussions, the delegates were ready for a well-earned lunch, and a chance to mingle and socialise with colleagues to share thoughts and ideas.
As lunch was tidied away, delegates were treated to another live performance, this time from pupils of Knowsley Central Primary School and Crosby High School, who collaborated on three modern choral songs with a Space theme. The pupils performed with enthusiasm and a great sense of joy, which set the tone for the next presentation that concluded the day's activities.
Vicky Harris is a highly experienced singing teacher and practitioner, with a wonderful range of approaches and techniques to enthuse any group in dynamic singing activity. Vicky spoke about her lifelong passion for singing, focussing on the wide variety of ways that singing benefits people of all ages and abilities. Her presentation introduced delegates to several easy to learn songs and singing activities that can be used in schools to raise quality of singing, and enthuse participants to work towards a positive energised experience. This was the perfect way to end a very successful and inspirational day, as evidenced by the feedback forms received from delegates that stated clearly how valuable, challenging and interesting the day's presentations had been.
As the event drew to a close, the organisers were able to reflect on the success of the summit, especially the way that the separate Music Hubs of the Merseyside region had worked in partnership to organise and deliver a large-scale specialist educational conference bringing together many of the highest-quality and cutting-edge Music education resource providers in the UK, to inspire and challenge School Music practitioners to aim higher and explore exciting opportunities for initiating the future of Music education in SEND education. This should mark the beginning of a new chapter in which Music Hubs work more closely and collaboratively together to widen and heighten their impact on School Music provision; the ReSEND Summit was a perfect example of how combined forces can aim higher and achieve greater things together.
Merseyside Music Education Hub Alliance includes: