PMLL To Sponsor a Child Through the London Music Fund
6th February 2018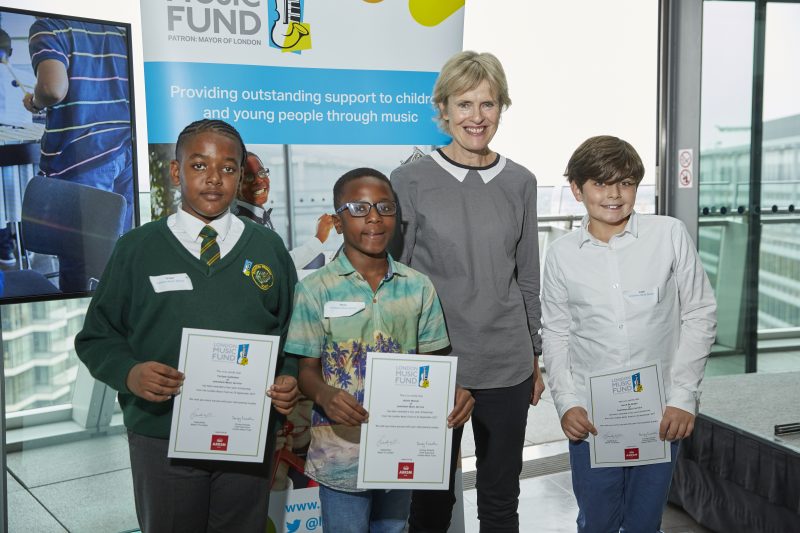 Photo: (Far left) Tyrique Gabbidon receiving his certificate from London Music Fund Ambassador and Oscar Winning Composer, Rachel Portman OBE alongside two of the other recipients at the Scholars Awards Day in late 2017.
Printed Music Licensing Ltd (PMLL), which licenses the copying of printed music with schools throughout the UK, is delighted to announce a new venture for the company in 2018. PMLL will be sponsoring four scholarships for children over the next four years through the London Music Fund.
The London Music Fund (formerly the Mayor's Music Fund), for which the Mayor of London is the patron, offers talented young musicians from underprivileged backgrounds the opportunity to develop their potential in music and beyond. This exciting new endeavour reflects PMLL's determination to support a flourishing musical landscape within the UK. The scholarships award £4,000 to each child and runs for four years.
The first child that PMLL will be sponsoring is eleven-year-old Tyrique Gabbidon from South East London. Tyrique is an ambitious drummer, however, in order for him to develop his considerable talent he requires 1:1 tuition and access to a wider spectrum of music centres.
The scholarship not only allows Tyrique to explore and develop his natural drumming abilities through dedicated tuition but it also gains him access to holiday courses, mentoring, instrument hire and repair, exams, music workshops, access to weekly band sessions and other specialised training.
Viki Smith, General Manager at PMLL says – 'Learning a musical instrument is hugely beneficial to a child's development intellectually, socially and creatively, and I'm thrilled that PMLL is able to extend our services to nurture promising young talent. Our members invest in the creation of new music across all genres and it is their mission to ensure that new generations of musicians thrive. We wish Tyrique all the best in this exciting chapter in his life''
Chrissy Kinsella, Chief Executive, London Music Fund says – 'We are enormously grateful to be working with PMLL to support the next generation of musical talent in London. Our vision is that every child who shows potential and commitment in music is given the opportunity to develop that talent, regardless of their background. With support from organisations such as PMLL we are one step closer to making that vision a reality.'