Orchestras for All announces grand finale for Musical Chairs challenge
16th February 2018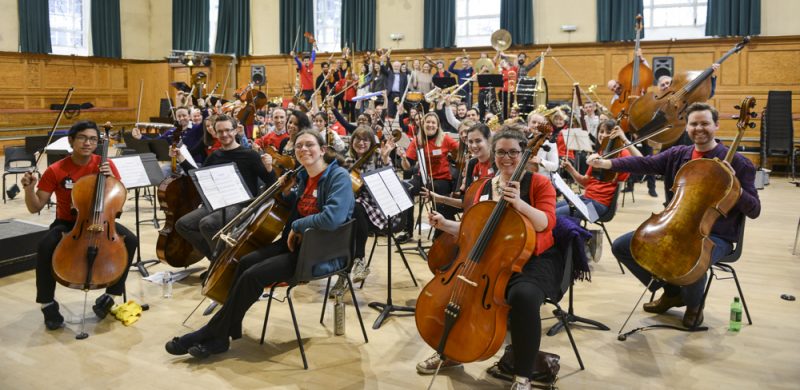 Live-streamed symphony orchestra concert will be the grand finale of this year's Musical Chairs learn an instrument challenge 
Orchestras for All, the charity that provides music-making opportunities to disadvantaged young people, brings its fundraising event Musical Chairs to Cecil Sharp House in Camden, London on Saturday 24 February. For one day only members of the public, who have taken on the challenge of learning a musical instrument in just eight weeks, get to rehearse alongside young musicians from the National Orchestra for All and then play in a public concert which will be streamed live online. Putting the novice players through their paces will be the Royal Academy of Music's Head of Conducting Sian Edwards.
For many, taking part in Musical Chairs is an alternative to the more obvious New Year's challenges. It provides the much-needed motivation to finally grasp that long-held ambition to learn a musical instrument, or re-learn one after decades. Musical Chairs also helps to raise money for one of the most innovative young charities in the UK today. Since the first Musical Chairs in 2015, the annual event has raised over £50,000 towards the work that OFA does in providing access to music-making opportunities for disadvantaged young people.
As OFA's Founder and Artistic Director Marianna Hay says "many of our intrepid Musical Chairs participants are rekindling their childhood love of music. Some have been digging out their dusty flutes and abandoned 'cellos from their attics and cupboards, some are learning a new instrument from scratch and will then be exposing their newfound talents to the public in a full scale symphonic performance – that takes a lot of guts!"
Participants will be coming from all over the country and all walks of life to get a chance to play in a real-life symphony orchestra. Comedian, actress and writer Arabella Weir, who is taking part for the first time this year by learning the marimba, explains "not only have I never played the marimba before, I've never seen or heard one before but I do enjoy hitting things, so I'm sure it will be all right on the night! More importantly I wanted to support the important work that Orchestras for All does with young people so I'm really looking forward to being part of this event."
Orchestras for All believes that music has the power to change lives and wants music to be accessible to all young people whatever their circumstances. The charity provides opportunities for young people aged 11-18 with complex needs to rehearse and perform in a unique national youth orchestra (the National Orchestra for All) completely free of charge and without audition. It also runs workshops, residential courses and provides training across the country for teachers and community music leaders. Since 2011 the charity has worked with over 1000 young people, supported over 75 music teachers and community music leaders and created over 25 arrangements of specially-created music for mixed ability ensembles.
As presenter of Channel 4 News Jon Snow says "Enabling young people who wouldn't otherwise get the chance to take part in playing music together, with all the social and personal benefits that can bring, is hugely important. Musical Chairs is your chance to get involved and support this fantastic organisation whilst enjoying a memorable day rehearsing and performing some spectacular music alongside OFA's inspiring young musicians."
There are still a few places left to take part in this year's Musical Chairs; find out more and sign up at www.orchestrasforall.org/musical-chairs