Orchestras for All announce NOFA Summer concert
14th June 2022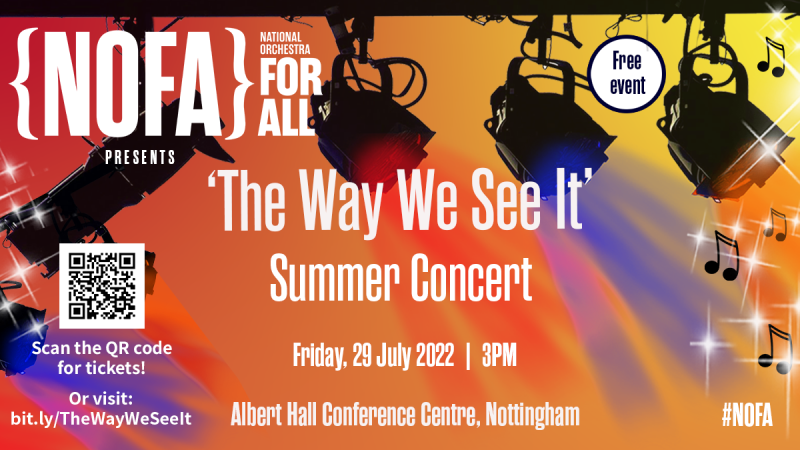 Orchestras for All (OFA) is excited to announce that its National Orchestra for All (NOFA) members will be performing live in concert this summer – and we would love for you to join us!
Titled 'The Way We See It', the musical extravaganza – which is free to attend – is due to take place at the Albert Hall Conference Centre in Nottingham on Friday 29 July at 3:00p.m. and will celebrate all that our epic orchestra has achieved over the past two years.
From stomping Balkan tunes and anthemic clubby dance, to rousing Romantic music and Britten's iconic 1945 work, 'The Young Person's Guide to the Orchestra' – including newly-written spoken words – the eclectic programme of music will surely make it an afternoon to remember.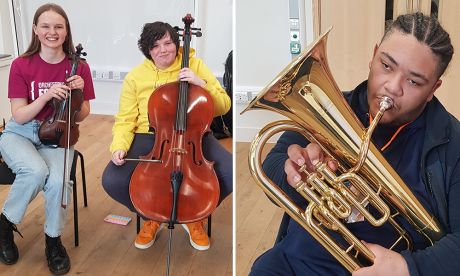 Aged between 11 and 19, NOFA's diverse young members come from all corners of the country and thanks to our charity's fully-inclusive, non-auditioned programme, they have been able to experience the joy of music-making with others regardless of the daily barriers they face.
Orchestras for All is also working in close partnership with The Trinity Catholic School as part of the event, with a group of its pupils performing live alongside NOFA.
Artistic Director at Orchestras for All, Emma Oliver-Trend, said: "We are all feeling really excited about NOFA's summer concert. The friendship, commitment to the orchestra and love of music really shine through in our young people's performance.
"This is a showcase of some superb orchestral music and hopefully, with something for everyone. I'm particularly excited that we are finding fun and easy ways for the audience to get involved in the performance too, so they get to share in the joy that is NOFA. A fun, friendly, family concert!"
Free tickets are available to book via Eventbrite and to discuss any queries or access needs, please contact NOFA Programme Manager, Paula, via email at paula.morgan@orchestrasforall.org.
On behalf of everyone at Orchestras for All, our sincere gratitude goes out our individual donors and loyal funders – Arts Council England, Youth Music, Association of British Orchestras, The Michael Tippett Musical Foundation, The Foyle Foundation, The Radcliffe Trust, The Samuel Gardner Memorial Trust and the Finzi Trust – for making this summer concert possible.