NYCGB's 2019 season champions new music and inclusivity
24th January 2019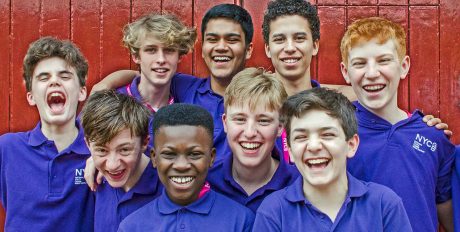 The National Youth Choirs of Great Britain (NYCGB) will present new music by Jessica Curry, Benji Merrison and its first-ever NYCGB Young Composers at its concerts in 2019. More than 750 children and young people from all backgrounds will take part as members, while more than 3,800 non-members will receive opportunities in schools and other settings through NYCGB's Widening Access & Engagement programme. More than 500 free tickets to NYCGB concerts will be distributed to first-time audiences.
The artistic theme for NYCGB's 2019 season is 'Discovery'. Headline commissions are from BBC 'Dynasties' soundtrack composer Benji Merrison, to be premiered at the 2019 Snape Proms, and BAFTA Award-winning composer Jessica Curry, to be premiered at the 2019 PRS Foundation New Music Biennial in Hull and London. NYCGB's first-ever quartet of Young Composers – Lillie Harris, Harry Baker, Joanna Ward and Shruthi Rajasekar – will work with professional mentors and their peers in the National Youth Choir to develop further new music, which will be premiered in concert and recorded for worldwide streaming release by digital partner NMC Recordings. NYCGB choirs will appear nationwide in 2019 with concerts in St George's Hall, Liverpool, Coventry Cathedral, Nottingham Royal Concert Hall, Reading Town Hall, Sunderland Minster, and as part of the award-winning Rosehill Theatre's touring programme of performances, 'On the road', in West Cumbria.
NYCGB's strongly-developing national outreach programme is set to reach 3,800 non-members over the year, with more than half engaged through an ongoing multi-year partnership in Nottinghamshire, and a new strategic programme in Yorkshire. Further initiatives include a free NYCGB taster weekend for young people in the North East supported by all six regional Music Education Hubs and Durham Vocal Festival. Driven by a new three-year grant from Leverhulme Trust, NYCGB will continue to provide generous financial assistance to enable talented young singers from all backgrounds to take part as members. In addition to a 33% subsidy for all course and programme fees, targeted individual support will be offered to 1 in 5 members, including free concert tickets for families.
Introducing NYCGB's 2019 season to a VIP audience including Arts Council England Chief Executive Darren Henley at a showcase event at the Royal Albert Hall on Monday 21 January, NYCGB Chief Executive Anne Besford said:
"We are really excited to be doing even more in 2019 to achieve our mission to deliver a programme which exemplifies artisitc excellence, expands access and inclusion for more young people from a wider range of backgrounds, develops leadership and which places young people at its heart."
Tickets for NYCGB's Spring 2019 concerts are on sale now
Free places for NYCGB's Spring 2019 open days can be booked now at nycgb.org.uk
CONCERT LISTINGS
NYCGB Spring Concerts 2019
7.30pm, Monday 15 April 2019, Nottingham Royal Concert Hall
KEY DATE  National Youth Choir + National Youth Boys' Choir with Inspired Voices – 'Brave New Worlds'
Jessica Curry – Advance Premiere She Who; Anna Meredith – Nothing to be written (from 'Five Telegrams'); De Machaut – Kyrie & Sanctus from Messe de Notre Dame; Hidalgo/Marquez arr Guthrie – Sal:VEH
Tickets: £10-15, £5 U25s. Disabled and other concessions available.  https://trch.co.uk/
7.30pm, Friday 19 April 2019, St George's Hall, Liverpool
National Youth Training Choir – 'Sing-ularity'
James MacMillan – Christus Vincit; Ola Gjeilo – The Spheres; Joep Franssens – Harmony of the Spheres (5th mvt); Muse arr Beardsell – Supermassive black hole
Tickets: £15, £7.50 disabled/companions, 5 U25s.
4.00pm, Saturday 20 April 2019, Coventry Cathedral
National Youth Girls' Choir – 'Songs and Charms'
Gustav Holst – Choral Hymns from the Rig Veda (selections); Steve Goss – Songs of the Solar System
Tickets: £12.50, £6 disabled/companions, 5 U25s.
NYCGB Summer Concerts 2019
[Listings announced/on-sale May 2019]
PRS Foundation New Music Biennial 2019
Please see https://www.newmusicbiennial.co.uk/