NYCGB auditions coming to venues across the UK
5th July 2019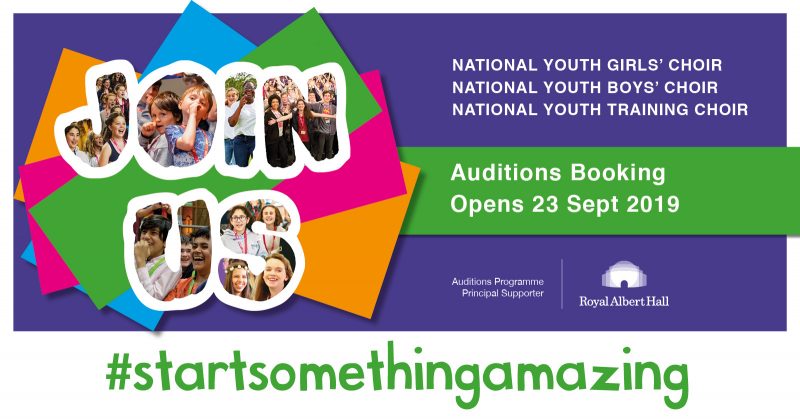 Audition Booking Opens: Monday 23 September 2019
Closing Date: Friday 25 October 2019
Talented young singers take note: National Youth Choirs of Great Britain (NYCGB) is holding auditions for its esteemed National Youth Boys', Girls' and Training Choirs and they want to hear from you! NYCGB is a national champion for youth choral music and comprises five choirs of over 800 talented young singers aged 9-25, who come together from across the UK.
Booking for the National Youth Boys', Girls' and Training Choir auditions opens on Monday 23 September 2019, with a closing date of Friday 25 October 2019. Auditions are booked via NYCGB's website at www.nycgb.org.uk/auditions.
Auditions are taking place in 18 locations across the UK including Birmingham, Gateshead, Cardiff, Edinburgh, Liverpool and London, (see below full list of dates & locations), and are open to talented young singers as follows:
· National Youth Boys' Choir – for boys entering School Years 5 to 10 on 1 September 2019.
· National Youth Girls' Choir – for girls entering School Years 6 to 10 on 1 September 2019.
· National Youth Training Choir – for boys and girls entering School Years 9 to 13 on 1 September 2019.
Auditions are open to all talented young singers. Candidates do not need to have passed singing exams, or to be having singing lessons, but should demonstrate a clear and tuneful singing voice, enthusiasm and readiness to learn. Candidates sing a song of their own choice with piano (an accompanist is provided), an unaccompanied song from a set list. Those from school years 5-8 will be asked to clap a simple rhythm at sight and those from school year 9 and up are asked to sing a simple melody from sight. NYCGB's website includes full details of requirements by age. Auditions last 10 minutes.
Successful choir members from across the UK, will come together twice a year to take part in inspirational residential courses and training programmes, with the first course in spring 2020. They will have exceptional performance opportunities at major national venues including the Royal Albert Hall and take part in recordings and music videos.
Lucy Noble, Artistic Director, Royal Albert Hall said: "Royal Albert Hall is proud to have supported NYCGB's Auditions Programme since 2013. We're delighted to be able to make a difference in enabling even more talented young people across the breadth of the UK to take part in high quality, often life-changing singing opportunities with NYCGB. This partnership benefits both NYCGB and the Hall, and is part of our shared commitment to give everybody access to music, whatever their background."
Anne Besford, NYCGB Chief Executive said: "NYCGB's national auditions programme is an essential part of achieving our aim to identify and support talented young singers from across the length and breadth of the country. We are delighted that the Royal Albert Hall continues to be the principal supporter for our auditions programme, sharing our ambition to enable as many young people as possible to take part in the outstanding musical opportunities we offer."
Being an NYCGB member can have a transformative effect on young people's lives. Speaking after the spring 2019 courses and concerts, NYCGB member parents commented:
"As we left the Royal Concert Hall, Nottingham – after the simply wonderful performance by the choirs – my son's first words to me when I asked how the week went were: 'I know this sounds a bit dramatic, but it was the most amazing experience of my life!'
"My sons had an amazing time and really enjoyed the opportunity to sing with the NYC boys' choir. The concert was amazing, and I am stunned with what was achieved in 5 days. They loved the music and making new friends."
"My daughter had an AMAZING time; loving every minute. The musical side was out-standing and the enormous amount of work and subsequent performances were wonderful and emotional to see/hear! BUT, this experience has been so much more for her. It, for the first time ever, has given her a sense of belonging. Being absolutely part of something."
Audition Fee / Financial Assistance
NYCGB wants to make sure that as many as possible have the chance to experience being part of a choir for themselves. Expected audition fee £37 (to be confirmed prior to booking). Children on free school meals can audition for free. Financial assistance is available to support travel to auditions and the NYCGB Financial Assistance Scheme can also offer support with costs of membership for successful candidates. More information is available at: www.nycgb.org.uk/financial-assistance
Preparing for an Audition
NYCGB's website provides plenty of information to find out what happens in an audition and how to prepare, and candidates are advised to read through this beforehand at nycgb.org.uk/audition
Free Open Days
NYCGB's four free Open Days taking place this August in North Yorkshire, Suffolk, Hertfordshire and Oxfordshire are a great way to find out more about what it's like to be part of NYCGB. Places for open days are free and bookable via nycgb.org.uk/Pages/Events/Category/open-events.