NYCGB Announces Annual Audition Dates and Exciting Plans Ahead for the National Youth Choir in 2020/21
9th March 2020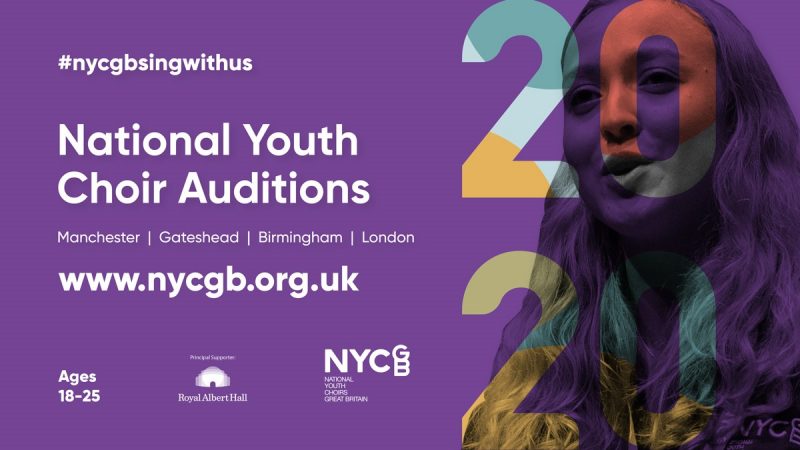 The National Youth Choirs of Great Britain (NYCGB) has announced details of its annual auditions for the flagship National Youth Choir in 2020/21, with five audition days taking place in Manchester, Gateshead, Birmingham and London.
The UK's leading youth choir for outstanding singers aged 18-25, is home to some of the best young singers in the world. Members from a diverse range of backgrounds, come together to take part in a unique year-round training and performance programme, working with world-class musicians and coaches and are part of major national and international festivals and events such as the World Symposium on Choral Music, the American Choral Directors Association Conference and the 100th anniversary commemorations of WWI at Amiens in 2018, which was broadcast live on BBC 2 and performed to an audience including HRH the Duke of Cambridge and the Prime Minister. High profile festivals include BBC Proms, Snape Proms and Three Choirs Festival. The National Youth Choir regularly performs at the UK's most prominent concert venues which include the Royal Albert Hall, Royal Festival Hall, Birmingham Symphony Hall and Sage Gateshead.
National Youth Choir members gain extensive experience of developing and premiering new choral music and the programme is designed not only to support them to grow their singing potential to the highest level, but also to gain invaluable real-world professional skills and experience.
NYCGB has five choirs for different age groups. To audition for the National Youth Choir singers must be aged 18 on 31st August 2020 to age 22 on 31st August 2021 (to age 25 for current members re-auditioning).
NYCGB wants all its choirs to represent the diversity of the UK's young people and celebrates every individual from any background. The organisation passionately believes that choral singing is for everyone and strongly encourages all talented young singers to audition to join their choirs. Financial assistance is available towards the cost of auditions and membership (more details are available atwww.nycgb.org.uk
Online audition booking opens on Monday 30th March and will remain open until one week before each audition date. Booking is made online at www.nycgb.org.uk
Auditions Dates
 Sunday 3rd May:       Manchester – Chethams School of Music
Saturday 9th May:     Birmingham – Midlands Arts Centre
Saturday 16th May:   London – Imperial College, Blyth Centre
Sunday 17th May:     London – Royal Albert Hall
Tuesday 19th May:    Gateshead – Sage Gateshead
Ben Parry Artistic Director and Principal Conductor, NYCGB said:'We're immensely proud of what the National Youth Choir has achieved over the past two years. The world-class opportunities in which the choir has been involved – not least the headline performances at the BBC and Snape Proms, stunning Christmas concerts as part of our amazing partnership with the Royal Albert Hall as well as this year's international tour to New Zealand and Australia – bear testament to the high regard of the choir's reputation and the skill, dedication and enthusiasm of the singers.
 The forthcoming season looks set to be equally special, with further developments to the learning programme, exciting performance opportunities and a spellbinding new commission piece to work on (details to be announced). We will also be working with some very special visiting artists as well as curating more brand-new choral works from our new cohort of Young Composers. Come and join the most exciting programme for young singers in the UK."
 Lucy Noble, Artistic Director, Royal Albert Hall said:"The Royal Albert Hall is proud to have supported NYCGB's Auditions Programme since 2013. We're delighted to be able to make a difference in enabling even more talented young people across the breadth of the UK to take part in high quality, life-changing singing opportunities with NYCGB. As the Hall looks towards our 150th anniversary in 2021, we are more committed than ever to giving access to music for everybody, whatever their background."
The National Youth Choir is for singers aged 18-25. Auditions for theNational Youth Boys' Choir, the National Youth Girls' Choir and the National Youth Training Choir will take place in autumn 2020, with more details to be announced this summer. Auditions for theNYCGB Fellowship Programme will be announced on the website in March. To receive news updates, sign up to the mailing list athttps://www.nycgb.org.uk/forms/sign-up