Nominations open for young musicians to join the National Orchestra for All for a special two-year season
22nd January 2020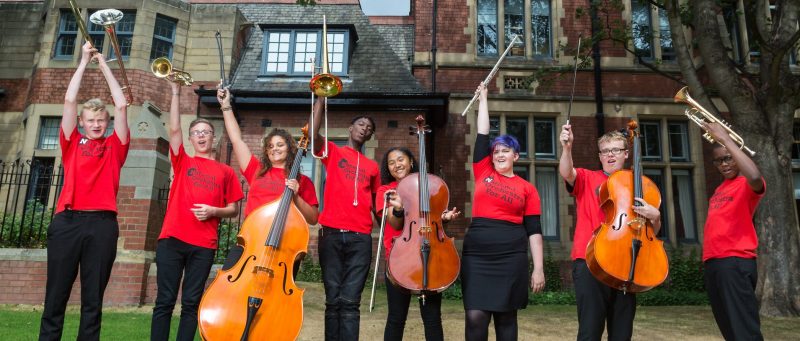 The UK's only national youth orchestra for young musicians of all skill levels facing barriers to accessing music-making, has announced that it is now accepting nominations for aspiring young players to join its 2020-2022 Season. This special two-year season celebrates the orchestra's 10th anniversary, performing music that reflects its unique and evolving identity.
The National Orchestra for All (NOFA), which is run by youth music charity Orchestras for All, provides an opportunity for young people (aged 11-18) experiencing barriers to music- making to join a full-scale symphony orchestra and perform in some of the UK's most prestigious venues. Instead of auditioning for players, potential members of the orchestra are nominated and selected on the basis of commitment and dedication to music in the face of challenging circumstances. The young musicians of the orchestra get the opportunity to take part in four residential courses in major venues across the UK, rehearsing and performing with support from a team of professional orchestral tutors and highly trained pastoral staff. Furthermore, the young musicians will take part in a number of ambitious, exciting and high-profile performance opportunities in 2021-2022.
100 young people are selected to join NOFA each year from across the UK. Many live with chronic health conditions or disabilities, have family caring responsibilities, are newly arrived young refugees or come from areas where they simply wouldn't be able to afford to participate in music without NOFA. Prospective new members can be nominated by a teacher, community or youth group leader or social worker. Once accepted, participation in the orchestra is completely free, including the costs of residential courses and transportation.
Since its inaugural season in 2011, NOFA has performed across the country in venues including the Royal Albert Hall, the First Direct Arena, Leeds and the Royal Birmingham Conservatoire. It has established itself as one of the leading youth orchestras in the UK.
Steven Smith, NOFA Programme Manager commented, "We are looking to reach those young people across the UK who have a passion for music but because of their personal circumstances are not offered the life-changing opportunity of taking part in great ensemble music-making opportunities such as this. We know the huge positive effect this can have on young musicians and can't wait to invite more into the NOFA family!"
If you know a young person who might benefit from taking part in the National Orchestra for All you can find more details on how to make a nomination on the Orchestras for All website www.orchestrasforall.org/national-orchestra-for-all or call Orchestras for All on 0207 267 4141.