New Drake Music Training; a creative approach to inclusive music education
9th July 2019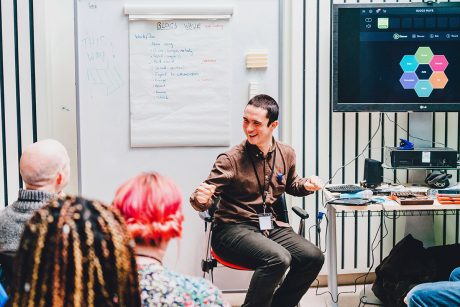 This week saw Drake Music launch a new training course – Inclusion & Music Tech in Practice – for people working in music education. The course aims to show new approaches to making music lessons and workshops more inclusive and accessible to all.
Becky Morris Knight, Drake Music Marketing and Communications Associate spoke to Douglas Noble, the Programme Leader for the Drake Music ,Youth Music funded, Think22 programme:
BMK: Where did the idea for the course come from?
DN: This course is a culmination of lots of different bits of training and ideas we've been working with at Drake Music for a number of years, and is informed by what we learnt from our first Youth Music funded strategic programme, Think2020, which we started four years ago. Music Education Hubs or schools would ask us to come and deliver training for their team, usually in music technology. When we could we paired this up with Disability Equality Training, delivered by Disabled trainers. We began to work out that when we included the underpinning philosophy of why we use technology to remove disabling barriers, grounded in the Social Model of Disability, the training had a much greater impact. We looked into this more deeply in our evaluation and the data we gathered showed that our hunch was correct. When we combined the two elements, we saw the participants' understanding of inclusion begin to grow and the practical training then having a greater impact, on their confidence and practice in this area.
In addition, with many notable exceptions, the organisations that approached us would only be able to allocate resources and time to one day of training in this, seeing it as a 'specialist' area. We knew we had to make the most of that opportunity to work with them, combining both the philosophy and the practice, and showing how they interrelate.
So that's why we decided to combine the two together into this new one-day course: Inclusion & Music Tech in Practice… it does what it says on the tin!
BMK: Who created the course?
DN: What makes our work special at Drake Music is that it all comes from our practice, our experience, whether that's knowledge from working in a school with young Disabled musicians or lived experience of disability. We are a team of Disabled and non-disabled people working together to invent new ways to remove disabling barriers to music. This course is no exception to that. It was developed by one of our very experienced Associate Musicians, Ben Sellers, along with our Artistic Programme Leader, Daryl Beeton. They drew on the learning from the work we have done before and tested and developed it further with more of the DM team and our fantastic Associates, including training them in delivering the course, creating a cohort of Disabled and non-disabled people to deliver it together.
BMK: Why is this course important now?
DN: Inclusion is increasingly the word on everyone's lips in the music education sector, which we are delighted about, but we know from experience that wanting inclusion is not necessarily the same as actually being inclusive in practice. Also, we are very clear that Inclusion is a journey rather than a destination. As an organisation we are very much still on that journey ourselves, and we are learning a great deal along the way. Hopefully this course can help bridge that gap between intention and action, by sharing our experience of putting our philosophy into practice.
We see it as really important to emphasise that this approach to inclusive practice is a creative opportunity for music educators and practitioners to take advantage of, and be enthusiastic about, as that has been our experience at Drake Music. It's a chance to do something new and exciting, something innovative and creative. To make music in new ways and with everyone, as opposed to it being about meeting challenges and over-coming difficulties. We also want to emphasise that it's about unlocking the knowledge, skills and expertise of music educators which are transferable to this area of practice, demystifying it as a 'specialist' area that only the few can work in.
Inclusion needs to be thought of in a big picture way, to be put into practice across a whole organisation… maybe even across our whole sector! It's a bit like cooking, you don't just sprinkle salt on top at the end to add flavour, you cook with it throughout to enrich the whole meal. We think inclusion should be the same. While it's good to add an inclusive music group to your service if you don't already have one, you could practice inclusion throughout your organisation and that would be even better.
BMK: Where can people find out more?
DN: Go to the Drake Music website or get in touch with us by emailing Think22 Programme Co-ordinator Joy on joystacey@drakemusic.org.